NFL Predictions Part 1: The NFC North
More stories from Christian Gralak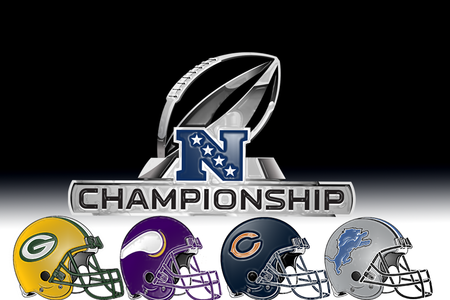 The return of the NFL gets closer and closer every day. With the preseason beginning in August and the regular season starting up in September, teams have been boosting their rosters to increase the odds of winning the Super Bowl.
The NFC North was surprisingly claimed by the Minnesota Vikings last season rather than the Green Bay Packers, which shows there is bound to be competition for the top spot yet again this year. As for the Chicago Bears and Detroit Lions, their hopes of climbing to the top should be an uphill battle as they try to patch the holes that cost them wins last season.
Here are my predictions for the 2016 NFL season.
Green Bay Packers: 14-2
The Packers have arguably the best quarterback in the league in Aaron Rodgers who threw for 31 touchdowns and 3,821 yards last season. If he stays healthy in 2016, he'll be back throwing 40 touchdowns and over 4,000 yards. Running back Eddie Lacy has also taken up a whole new slimmed-down look after averaging 4.1 yards per carry last season and being called out by head coach Mike McCarthy.
NFL reporter Albert Breer told NFL Network's NFL HQ, "I know the people around Eddie Lacy really feel like the Packers are going to be happy." The new muscle he's added will help his endurance and his ability to avoid tackles. Jordy Nelson will also be returning after missing last season with a knee injury. His return should solidify an offense that just didn't produce as planned with his absence in 2015.
The Packers also did well in the draft, taking many defensive players including linebackers Kyler Fackrell and Blake Martinez who will provide a healthy boost at the position.
Minnesota Vikings: 13-3
The Vikings will still find their way back to the playoffs this year as quarterback Teddy Bridgewater has a new weapon to play with in Laquon Treadwell, their first round pick (23rd overall) .
Treadwell was the fourth wide receiver selected in the draft but could be the best one out of all the others to be selected due to his large size. The 6-foot-2 receiver caught 202 passes for 2,393 yards and 21 touchdowns in three years at Ole Miss. He'll be able to grab balls out of the air due to his large size and not have to rely on separation having only average speed. The Vikings offensive line will also be better with the return of Phil Loadholt and John Sullivan. Both were out last year due to injuries: Loadholt (achilles) and Sullivan (back). The additions of Alex Boone and Andre Smith will also bolster the offensive line so Bridgewater should be able to find more comfort in throwing and running back Adrian Peterson will find more holes and running lanes to score.
Chicago Bears: 10-6
Maybe I'm being too generous, but I believe the Chicago Bears are trending in the right direction after their draft. The Bears showed promise in John Fox's first year as head coach and should continue that progression into the 2016 season. The additions of Jerrell Freeman and Danny Trevathan will be a refreshing lift to the linebacker positions, along with first-round pick Leonard Floyd who was arguably one of the best edge rushers in draft.
Bobby Massie and Cody Whitehair will provide a boost to the offensive line, which also allows Kyle Long to move back over to his original position at right guard from right tackle. The Bears will also be getting rookie Kevin White back, who missed last season with a fractured lower shin. Jay Cutler should have fun with both White and Alshon Jeffery to throw to, as their height can make things easy for Cutler.
The downside for the Bears is the loss of running back Matt Forte.
Jeremy Langford will have a lot of slack to pick up in Forte's absence and will have to average more than 3.6 yards per carry if he's going to be effective. That includes less drops in the pass game after he missed eight of 42 passes in 2015.
Detroit Lions: 8-8
The big loss for the Detroit Lions was the decision for Calvin Johnson to retire. In response to the decision, Detroit signed top free agent Marvin Jones from the Cincinnati Bengals to a 5-year, $40 million deal. Jones isn't likely to replicate the same numbers Megatron produced, but should still be an excellent addition to Matthew Stafford's arsenal along with Golden Tate.
The Lions also took offensive tackle Taylor Decker with their first round pick and center Graham Glasgow in the third round. Decker will likely be playing right or left tackle and Glasgow will be competing against Travis Swanson for the job at center.
Swanson didn't perform very well last year so Glasgow may very well overtake the position. The Lions have a tough starting schedule to begin the year with three of their first four games on the road so it will be important for them to get off to a positive start. If they can do that, this season should be an improvement from last year.
Leave a Comment