NEIU Perspective: What makes the Cubs special?
The Cubs are going to the World Series for the first time since 1945 and will be facing the Cleveland Indians after defeating the Dodgers in a 5-0 shutout at Wrigley Field on Saturday night. The Independent went out and asked some NEIU students about the team and how they feel about this special year. 
Eddie Pedvin: Senior
I: How long have you been a Cubs fan?
EP: "All my life man – 25 years man, s***."
I: Who got you into the Cubs?
EP: "That's a good question, you know neither of my parents were really huge Cubs fans, I think it was the kind of thing where, you know I liked baseball when I was younger and being from the North side you root for the Cubbies and that's how it worked out."
I: Who is your favorite Cubs player?
EP: [Laughs] "I was saying this to you earlier today…if the World Series is won on a game-winning home run, I want it to be Addison Russell…Something about that kid since the moment he came into the league…he's one of those player's man…he's got a special vibe to him too. …Addison for sure."
I: What is so special about this year's Cubs team?
EP: [big sigh] "I don't know, it's on the level where I'll be watching them sometimes and it just feels different. I mean I'll even still be saying like, oh man, yeah we can't say that they're gonna' win until they're gonna' win, right? But… there's something else, …there's clearly… – I brought up the fact that…it's interesting to me that there's parallels between Phil Jackson and Joe Maddon in terms of the very Zen aspect of the way they coach and I almost wonder if that's sort of what it is. I think that Joe is bringing some Zen to the Cubs and I think that's what we're sensing from them is that…all this is coming from a place of Zen ­– of we know what's up, we know what we're doing…we're confident in it, we have faith ­– that's what they have, you know. It's faith but it's…a different type of faith than maybe… has been in the past."
I: How many games do you think it will take to beat the Cleveland Indians?
EP: [big sigh] "I know it's going to take… less than or equal to seven games…, I have absolutely no idea. Cleveland's looking very strong this year especially considering they kind of slowed down right before the playoffs and then just came out guns-blazing in the playoffs. I feel like they could be a very tough opponent. They certainly are another team with a curse to break in a certain way so it could be a very interesting series on that and I think both teams are going to be playing their hardest."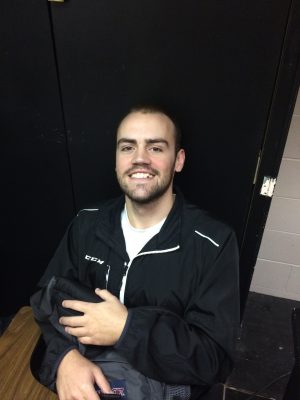 Eric Stauffer: Junior
I: Who is your favorite player on the Cubs?
ES: [Exhales] "That's tough, probably, actually Kyle Schwarber. That guy can just play ball, he can just hit that ball wherever he wants to, whenever he wants to. He's the man."
I: Are you pretty disappointed about the injury he suffered earlier this season?
ES: "I actually remember watching that play live and I saw him rolling around on the… warning track and I was like devastated, I was like no, no, just please be like a high ankle sprain or something like that."
I: What is your favorite thing about this year's Cubs team?
ES: "It's just, really just fun to watch again. I missed baseball ­– I missed watching good baseball and it's cool to have one of your teams be that freaking good. It's just so much fun to watch."
Naiim Saddiqi: Senior
I: Who is your favorite Cubs player?
NS: "Ben Zobrist."
I: What's special about Ben that makes you like him so much?
NS: "I've always liked Ben Zobrist, he is a dude who can play everywhere…and play well everywhere on the diamond, so that's one thing I really like about him. He's like had MVP caliber seasons while playing solid defense at, you know, four or five positions and that's just something you don't see in the game nowadays."
I: Who got you into the Cubs?
NS: "Uh nobody, I hate the Cubs."
I: Any reason for your hatred against the most lovable losers who are now the lovable winners?
NS: "Yeah, I grew up a Cardinals fan in St. Louis and… therefore I don't like the Cubs. It's just the way the rivalry in sports work."
I: What is so special about this year's Cubs team?
NS: "Well, you know they've got a great young core, …they've got Joe Maddon who is– you know, who came over last year…is one of the best managers in the game, …possibly, probably maybe the best manager in the game. …He took a lot of really good– well he took a lot of mediocre Tampa Bay Rays teams to the playoffs including [chuckles] Ben Zobrist. So you know, with a young core and a really good Cubs team it's not surprising that this team does very well with, you know Bryant and Rizzo at the three and four and then obviously a solid defense and solid offense all around…it's not any surprise that this team, just has made it as far as it has."