AFC Preseason Predictions: North & South
More stories from Christian Gralak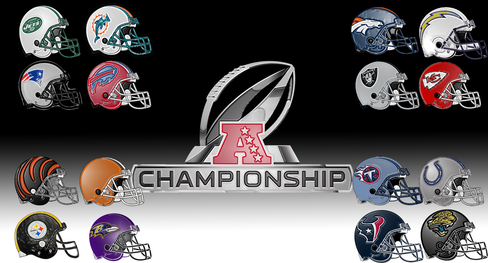 Pittsburgh Steelers: 12–4
The Steelers had some trouble with injuries to their key players last season (quarterback Ben Roethlisberger and running back Le'Veon Bell) as well as a defense that showed signs of wear and tear. Don't turn a blind eye though. When healthy, Pittsburgh's big three of Roethlisberger, Bell and wide receiver Antonio Brown, (his 136 catches last season were tied for most in the NFL) shows that the Steelers are ready to make a deep playoff run once again. They will also get back their two-time All-Pro center Maurkice Pouncey who adds strength to an already decent offensive line. The Steelers also beefed up their defense in the draft with first-round pick cornerback Artie Burns and second-round pick strong safety Sean Davis. Third-round pick defensive tackle Javon Hargrave is also a nice addition who averaged 37.5 sacks over his college career at South Carolina State. Look for a strong Steelers team to dominate this season.
Cincinnati Bengals: 11–5
The Bengals were good last year and it may have been their best chance to win a Super Bowl, if only Andy Dalton didn't break his thumb. This year it will be harder to match what they did last season, following the loss of wide receivers Mohamed Sanu, who went to Atlanta, and Marvin Jones, who signed with Detroit. On the bright side, the Bengals still have wide receiver A.J. Green and tight end Tyler Eifert. However Eifert, who led all TE's with 13 touchdowns, is out four to six weeks recovering from ankle surgery. The defense that gave up the second fewest points per game last season (17.4) will still shine this year, even though they lost All-Pro safety Reggie Nelson and cornerback Leon Hall.
Baltimore Ravens: 10–6
The Ravens unfortunately had the injury bug last season, setting them back to a 5–11 record. This season, their luck looks to change as quarterback Joe Flacco, wide receiver Steve Smith Sr., running back Justin Forsett and outside linebacker Terrell Suggs all return healthy and ready to make a playoff run for what looks to be Smith's 16th and final season in the NFL. Even though the defense is getting older, they still have an adequate pass rush and secondary, along with an effective special teams unit that ranked No. 1 in 2015, which will hopefully carry over in full force from last season.
Cleveland Browns: 4–12
The Browns started to clean house near the end of last season with ownership firing general manager Ray Farmer and head coach Mike Pettine. They brought in former Bengals offensive coordinator Hue Jackson to be head coach and will look for a fresh start to the season without the nuisance of former quarterback Johnny Manziel.  The Browns' signing Robert Griffin III should be interesting to watch but don't get your hopes up for the playoffs this year. The Browns have much to work on with their defense, which allowed 27 points per game in 2015, along with an offense that put up an average of only 17.4 points per game. Look for Cleveland to get competitive in the years to come as they acquire talent through future drafts. The good news is that there should be improvement from last season under coach Jackson.
Indianapolis Colts: 11 – 5
The Colts are still one of the best teams in the AFC South as long as they have quarterback Andrew Luck. For a guy who has faced constant pressure from the pass rush, Luck finds a way to will his team into contention. If the offensive line can shape up like head coach Chuck Pagano hopes, then maybe everything else will click and the Colts can make a long playoff run. The Colts' draft picks focused on the offensive line for the most part, while also addressing some needs on defense. Look for Luck to come back strong and once again reconnect with wide receiver T.Y. Hilton, whose numbers should rise back up to where they were in 2014 after Luck's absence from injury last season.
Houston Texans: 10 – 6
The Texans have looked pretty good so far this preseason and while these games don't count for much, they sure can bring in a momentum of positive team chemistry at the start of the regular season. The signing of former Denver Broncos quarterback Brock Osweiler to a colossal four-year, $72 million deal has the Texans believing they don't need a superstar quarterback to win, but rather a well-rounded one that can run an offense that already has everything it needs to win. The Texans even improved their already able offense in the draft with first-round pick wide receiver Will Fuller and third-round pick wide receiver (converted quarterback) Braxton Miller. These additions add more speed and reliability to a team that already has great playmakers in wide receivers DeAndre Hopkins and Jaelen Strong and running backs Lamar Miller and Alfred Blue. The Texans look to have a solid offense for 2016 along with a very effective defense, run by phenom defensive end J.J. Watt. Don't be surprised to see them make a serious Super Bowl run.
Tennessee Titans: 9 – 7
The Titans have a lot of great talent. Quarterback Marcus Mariota, running backs DeMarco Murray and Derrick Henry, wide receivers Rishard Matthews and Andre Johnson and tight end Delanie Walker are a few of the players in that great talent category. The only thing is, ownership fired a coach only to be replaced by another coach whose past record doesn't show promise of being any better. Former head coach Ken Whisenhunt had a horrific record of 3 – 20 while he was with the Titans from 2014-2015. That's a win percentage of only .130. New head coach Mike Mularkey's record is 18 – 39 after about four seasons of coaching (Buffalo 2004-2005, Jacksonville 2012; he took over in 2015 for the Titans after week eight). Yes, that's a bit more acceptable with a win percentage of .315 but it would be more appealing to see the Titans hire a coach with more wins than losses. Maybe the Titans want his experience but it's important that Mularkey takes the correct road when it comes to developing all the young talent this team offers, especially with Mariota who has a high ceiling and started to decline under Whisenhunt. While many believe the Titans are a few years away from competing, I wouldn't be surprised if they found themselves fighting for a wild card position.
Jacksonville Jaguars: 4 – 12
The Jaguars gave up an average 28 points per game last season, the second most amount of points allowed by a team in the league last year, only beating out the New Orleans Saints who gave up an average 29.8 points per game. The defense is going to have quite a few new players rotating in and out and it may take some time for everyone to click into the system. Cornerback Prince Amukamara, who signed a one-year deal, should be able to provide some much needed depth if he can return to the dominant form he was in before his bicep tear in 2014. Tashaun Gipson will also be helpful in the free safety position where the Jaguars have been known to struggle. The offense on the other hand should be fine, with quarterback Blake Bortles having two of the best wide receivers in Allen Hurns and Allen Robinson to lean on down the stretch. Bortles will just need to drastically reduce his interceptions, as he led the league last year with 18. The Jaguars also added former Jets running back Chris Ivory to go along with T.J. Yeldon, so Bortles should have no problem finding ways to get the ball into the end zone. The deciding factor for the Jaguars will be whether or not the defense can prevent and hold their opponents from scoring consistently. I don't think this is the year the Jaguars will find themselves competing in the playoffs.
Leave a Comment