Bowman Goes All In Again
March 15, 2016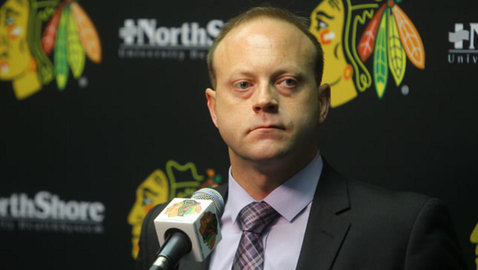 Stan "The Man" Bowman has once again gone all in for the Stanley Cup, and there's a good chance that this Dynasty continues.
The Chicago Blackhawks senior vice president and general manager worked his magic before the Feb. 29 trade deadline.
Key additions:
Forwards: Andrew Ladd, Matt Fraser, Dale Weise, Tomas Fleischmann and Tim Jackman.
Defensemen: Christian Ehrhoff and Jay Harrison.
Goaltender: Drew MacIntyre.
The biggest prize is the acquisition of former Blackhawk and two-time Stanley Cup champion, Andrew Ladd. Ladd, 30, an 11-year NHL veteran was acquired from the Winnipeg Jets along with Matt Fraser and Jay Harrison.
He was arguably the most coveted target during the trade deadline.
In return, the Blackhawks sent over Marko Dano, a 2016 first-round draft pick and a conditional third-round draft pick in 2018 if the Blackhawks reclaim the Stanley cup championship this year.
Ladd put up a career-high 62 points, with 24 goals and 38 assists, in 81 regular-season games with the Jets last season.
"He brings so much to the table," Bowman told ESPN on Feb. 26. "Just his competitiveness. He's a very versatile player. He's played a big role in Winnipeg the last few years there. On their team, he does it all."
Ladd will play on the top line along with Jonathan Toews and Andrew Shaw. Fraser and Harrison are down in Rockford playing for the first-place Icehogs (the Chicago Blackhawks minor league affiliate). Shaw will likely move down to the third or fourth line when forward Marian Hossa returns from a leg injury.
As of Mar. 9, Ladd has two goals and two assists in five games with the Blackhawks.
Winnipeg will also retain 36 percent of Ladd's cap hit for the remainder of the 2015-16 season, according to ESPN sources.
Dale Weise and Tomas Fleischmann were acquired from the Montreal Canadiens in exchange for Phillip Danault and a second-round pick in 2018. Montreal will retain 30 percent of Weise's cap for the rest of the 2015-16 season.
Weise and Fleischmann will likely be playing on the third line, which moves Teuvo Teraavainen back to his natural position at center. Both forwards will provide greater depth on the third and fourth lines, giving them greater checking and scoring ability.
Weise has zero points in three games, but has only attempted one shot on goal and Fleischmann has one goal and no assists in eight games.
During their time with the Canadiens, Weise had 14 goals and 12 assists in 56 games, while Fleischmann had 10 goals and 10 assists in 57 games. Fleischmann also has four goals and five assists in 35 Stanley Cup Playoff games, which should be helpful to the team come playoff time.
Danault had one goal and four assists in 30 games with Chicago.
Veteran forward Christian Ehrhoff was acquired from the Los Angeles Kings for defenseman Rob Scuderi.
Considered to be a low-risk trade, Ehrhoff didn't live up to his expectations in LA and will be an upgrade over Scuderi, who didn't seem to fit with the Blackhawks.
Ehrhoff's veteran experience should be helpful to the team come time for the postseason and who knows, maybe a change of scenery will help rejuvenate his slow start. He has one assist in three games with the Hawks.
Scuderi played for the Kings from 2009 to 2013, but left as a free agent after the 2013 season.
He went scoreless in 17 games for Chicago. With one year left on his contract, the Blackhawks will keep 50 percent of his salary while the the Kings will retain 15 percent of Ehrhoff's.
These trades may be viewed as losses because the Blackhawks gave up too many valuable assets and young talent, but nothing is guaranteed though when it comes to young players evolving into stars. The Blackhawks still have plenty of potential talent in Rockford.
With that said, there should be no need to worry. This isn't the first time Bowman has made trades where it seems like the Blackhawks are getting the bad end of the deal.
Even if that were the case, which may be true, you can't argue with three championships in six seasons.
The important thing is that the core group of guys — Jonathan Toews, Patrick Kane, Marian Hossa, Duncan Keith and Brent Seabrook — are still together. Even better, Bowman is able to work around the salary cap year after year and find players who fit into the system, giving the Blackhawks a chance to bring another championship to Chicago.
"Looking at our team, I like what we've done," Bowman told the Chicago Tribune on Feb. 27. "We've actually had a great season to date. I think there's always things you want to get better at. And when you look at your team, I think the one area we wanted to try and improve was our depth and our players with experience."
Bowman played his cards with rentals, Antoine Vermette and Kimmo Timonen last year, and it resulted in another championship. Why can't it happen again with Ladd, Weise, Fleischmann and Ehrhoff?
With Bowman's recent trades, the Blackhawks' odds of retaining the Stanley Cup have only increased.