NFL Predictions 2016: NFC South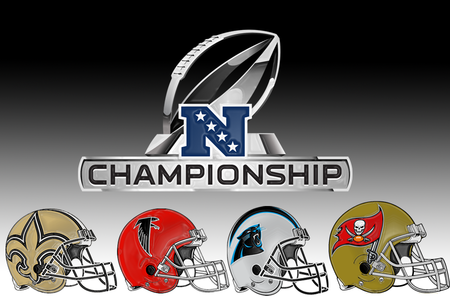 Carolina Panthers: 15 – 1
The Panthers had a great season in 2015, going 15 – 1, making it all the way to the Super Bowl and having quarterback Cam Newton win the Most Valuable Player award. It would have been an even greater season if they took home the Vince Lombardi trophy. Unfortunately, that didn't happen and a new season brings hope for redemption—with good reason.
The Panthers had a solid team last season and it will still be that way this year. With new defensive additions acquired in the draft like defensive end Vernon Butler and cornerbacks James Bradberry and Daryl Worley; the Panthers will have some decent depth on defense in 2016. The linebacker core of Thomas Davis, Luke Kuechly and Shaq Thompson will also be a big reason why Carolina's defense remains one of the best in league, so expect to see the same explosiveness you saw in 2015.
Newton will also be getting back his top wide receiver Kelvin Benjamin, who caught 73 passes for over 1,000 yards and scored nine touchdowns in his first season. His missed last season due to an ACL tear in his left knee.
The Panthers' already dangerous arsenal of Greg Olsen, Ted Ginn and Devin Funchess is looking even more effective with Benjamin's return in 2016.
New Orleans Saints: 11 – 5
The Saints, for the most part, re-signed many of their players from the 2015 season: running back Tim Hightower, tight end Michael Hoomanawanui and guard Senio Kelemete, to name a few.
New Orleans had the second worst defense in the league last season allowing 413.4 yards per game but their draft picks this year should alleviate some of that pain. The Saints took defensive end Sheldon Rankins, arguably the best 4-3 defensive tackle in the draft with their first pick, safety Vonn Bell in the second round and defensive tackle David Onyemata in the fourth round.
Michael Thomas, Ohio State's' leading wide receiver over the last two years was also drafted in the second round. He'll be a good addition to an offense that had a hole to fill with the release of 10-year veteran wide receiver Marques Colston, and is expected to become a red-zone threat as he develops.
The signing of Coby Fleener to a five-year deal also provides a new face at tight end and gives quarterback Drew Brees a fresh option at the corner.
Running back C.J. Spiller didn't have the type of year he wanted in 2015, but with hard work put in this offseason, he should be better than ever since he was never able to get back to 100 percent after his knee surgery last August.
Overall it is expected to see the new faces making an impact in 2016 and pushing the team back into playoff contention.
Atlanta Falcons: 10 – 6
The Atlanta Falcons have been focused on rebuilding a defense that proved to be ineffective for far too long.
The team had the league's worst defense in 2014 allowing 398.2 yards per game compared to 2015's, which allowed 347.6 yards per game. A little bit better, but not good enough.
In an attempt to keep lowering those total yards allowed, Atlanta signed linebacker Courtney Upshaw, defensive end Derrick Shelby and former first-round pick Sean Weatherspoon — a linebacker originally drafted by Atlanta in 2010. They also re-signed defensive end Adrian Clayborn and linebacker Philip Wheeler.
Weatherspoon was brought back to increase the physical aggressiveness of the secondary and hopes to bring a positive familiar energy into the Georgia Dome.
He told 11Alive news, "I talk… all the time about bringing that feeling back to the Dome. It would be great to do that in the last year of the Dome."
As for the draft, Atlanta took safety Keanu Neal and linebacker Deion Jones with their first and second round picks. Neil will likely start and help with Atlanta's pass rush issues and Jones should slide right into the middle linebacker slot. The Falcons also added wide receiver Mohamed Sanu, center Alex Mack and quarterback Matt Schaub. Sanu only acquired 394 yards on 33 receptions last season with Cincinnati but will be a good No. 2 for Matt Ryan who now won't have to rely solely on Julio Jones.
Mack, a three-time Pro-Bowl center from Cleveland will bring the grit and talent the Falcons lacked at the position last season while giving Ryan some extra time in the pocket to throw. Atlanta just needs to figure where everyone can play best before the 2016 season begins. If they can put their puzzle together, they might find themselves competing for a wild-card spot.
Tampa Bay Buccaneers: 8 – 8
Lovie Smith is out. Dirk Koetter is in.
Tampa Bay promoted their offensive coordinator to head coach after going 8-24 under Smith's leadership.
With Koetter as coach, Tampa Bay can expect to see an even more efficient offence than the franchise record setting one (set in 2015) and a more independent play-calling quarterback in Jameis Winston, who is expected to start calling more no-huddle drives.
To keep the offense intact, the Buccaneers re-signed running back Doug Martin, who was the league's second leading rusher with 1,402 yards and safety Chris Conte, who will likely start unless he's beaten out by one of the rookies drafted. They also added guard J.R. Sweezy to replace the retired seven-time Pro Bowler Jordan Mankins, defensive end Robert Ayers and cornerback Brent Grimes.
Tampa's draft focused on finding defensive players who could beef up their secondary since the Buccaneers' defense allowed an NFL-worst 69.9 completion percentage last season. With the first and fourth-round picks, the Buccaneers selected cornerbacks Vernon Hargreaves III and Ryan Smith. Both players have high upside and will learn from Grimes, a four-time Pro Bowler. Tampa Bay should be fine on offensive with Winston, Martin, and wide receivers Vincent Jackson and Mike Evans. It's their defense that will need to keep them in games of they want to see improvement from last year.
Leave a Comment