Pitchfork 2021 Review
Pitchfork 2021 Review: Day One
The indie festival made a pleasant return to Chicago's Union Park.
—
On Friday Sept. 10, Pitchfork Music Festival returned to Chicago for its 15th time.
After a year-long hiatus because of COVID-19, the festival ushered in fans, artists and vendors itching for the chance to revel in live-music.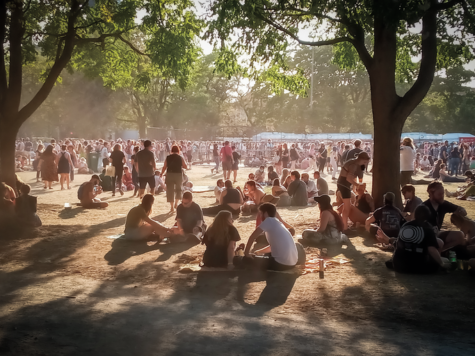 2020 would have been the 15th anniversary of the festival and was set to feature some of the artists who performed in Union Park that first year in 2005. 
However, the world had different plans.
The pandemic changed many aspects of life and it meant that attending concerts and festivals would have to be postponed until the situation was a little more under control.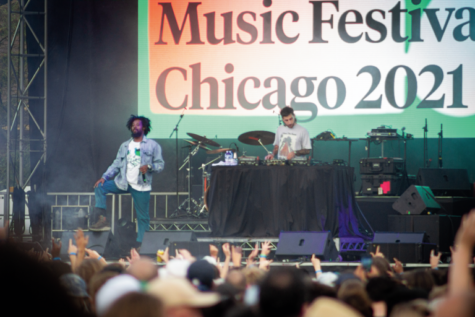 A year and a half long wait was well worth it.
Almost every artist showed their appreciation to the fans by playing most of the hits from their catalogs. In turn, fans reciprocated the gesture by giving their bodies over to the music and danced, hollered and applauded at every chance. 
I arrived Friday afternoon just in time to catch the London-based math rock outfit black midi. Having released their debut album Schlagenheim in 2019  to rave reviews, the band is fairly new to the scene, but one wouldn't be able to tell that by looking at the crowd standing in front of the Green Stage on that pleasant late-summer afternoon.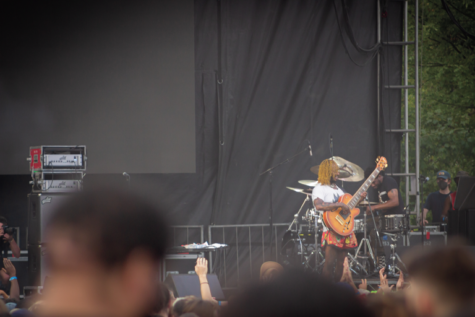 After listening to the final few songs of their set, I wandered around the grounds to get a lay of the land. One thing that stood out to me right away was the amount of accessible areas the festival organizers put in place. Metal ramps extended for close to, if not more than, 100 feet and led to elevated platforms that allowed for persons with disabilities to see and enjoy the festival. What's more, festival volunteers were positioned in front of the platforms to ensure that someone who didn't need them didn't use them.
From there I went to find a water fill-up station to quench my thirst. It is commendable that Pitchfork had such stations in place, as most festivals don't. If, however, someone didn't bring a water bottle with them, plastic bottles of water were still available from vendors.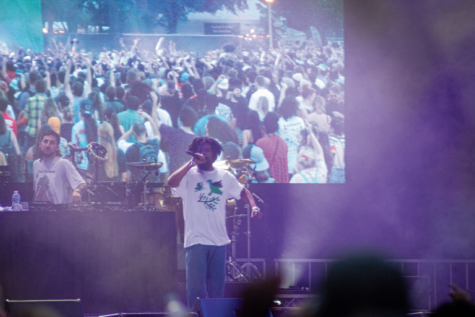 My only grievance was that the station was constructed out of two-by-fours, a garden hose and PVC piping. I don't know where the water was being piped from, but it had a putrid smell that made drinking it difficult. That aside, it was great that the option was there.
Meanwhile, The Fiery Furnaces was playing on the Red Stage. I'd only listened to their song "Single Again" prior to the festival and it was what they opened with. More so, it was the first show they played since going on hiatus in 2011, so it made sense that they opened with arguably their most popular song.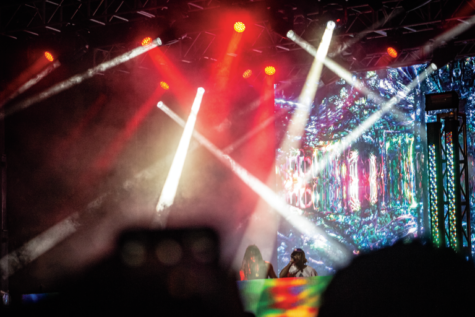 Their sound is somewhere between the Detroit rock revival of the early 2000s where you had bands like the White Stripes and the Detroit Cobras who revived the garage-rock sound. Mix that with synthy rock from bands like Devo and even the Talking Heads and you get The Fiery Furnaces. 
Animal Collective performed on the Green Stage immediately after the Fiery Furnaces finished. It was sort of serendipitous that they played that night. Avey Tare, one of the members of Animal Collective, had performed solo the first and only time I had been to Pitchfork in 2015, so it was exciting to be able to see him and the rest of the band together on stage six years later.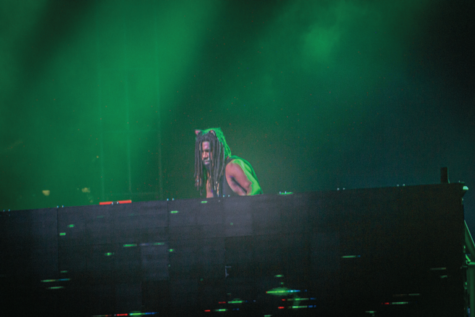 I grew up listening to Animal Collective in high school and seeing them some ten or twelve years later was very nostalgic. However, I only stayed for two or three songs as Kelly Lee Owens happened to be playing at the same time on the Blue Stage not too far away and I really wanted to catch her set.
Owens is a Welsh DJ that has put out two albums in the last four years, but has made quite the splash in the electronic scene. She was heavily influenced by Daniel Avery's 2013 debut album Drone Logic and from that has emerged as one of the most creative DJs of the last five years. Her stage presence was remarkable. She involved the crowd on numerous songs and when not behind the mixer, was dancing like a spring tulip in an April breeze.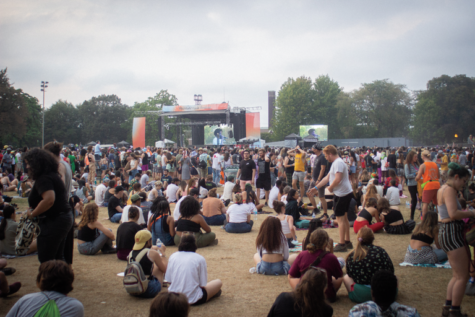 Big Thief was the next act to perform at the Red Stage. A great band is one that is composed of talented members who contribute to the whole, rather than steal the spotlight from any of the other members. Big Thief is just that; they perform as a single unit. I would like to say that Adrianne Lenker, guitar and vocals, is what makes this band truly special, as she writes incredible lyrics, but she is merely one part of it. Big Thief's sound is definitively Midwestern.
It is one part folk rock and one part indie rock. Lenker's lyrics mention such things as "cattails swaying in the wind" and "your hands are like artifacts in my mind." She has a remarkable knack for creating a visually compelling song. For me, Big Thief was the headlining act. The crowd wasn't electric as it had been for other acts, but it didn't need to be. Only at the end of each song would you hear any sound coming from a person in the crowd, but during the set, everyone was quiet and their attention was rightly focused on what lay in front of them.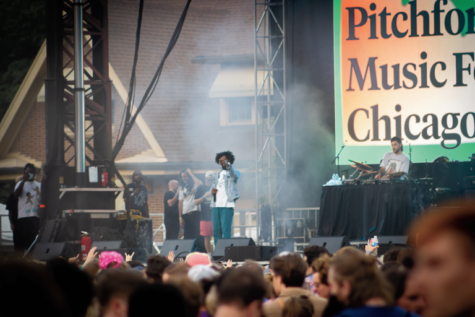 Phoebe Bridgers was the official headliner, but soon after she went on, I made my way over to the record fair where I spoke with a number of vendors about what they had on display. Some were locals who ran small record labels. Some made their own clothing and others offered hundreds of second-hand records for reasonably cheap prices. I picked up three for less than $25.
Sensing the show was coming to an end, I tried making my way to the exits before everyone else, but  didn't and got swallowed by the mass exodus of this year's Pitchfork attendees. 
After a year and a half long hiatus from live-music, it only felt right.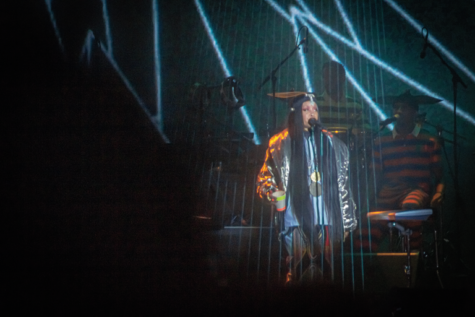 Leave a Comment
About the Contributor
Ryland Pietras, Managing Editor
Ryland Pietras is a journalism student at Northeastern Illinois University. He is a patron of the arts and small businesses, he roasts his own coffee and...