NEIU's Stage Center Theater Presents: 'Native Gardens'
NEIU's Stage Center Theatre closed out February with its interpretation of Karen Zacaraias' "Native Gardens." The play was directed by Leslie Hull, a resident props designer and full-time instructor at NEIU, and went on between Feb. 20-22 and Feb. 26-29. Also led by artistic director Adam Goldstein and Managing Director Sarah Fabian, the cast and crew crafted an engaging and thought-evoking performance.
Set in the backyard of two neighbors' houses separated by a garden and a fence, the 90-minute performance followed two couples of differing backgrounds. The detailing and construction of the set transported the audience into Zacarias' fictional world, inciting the feeling that the audience members were onlooking neighbors. Pablo Del Valle (played by Leo Aranda), a budding attorney from Chile, and his wife Tania Del Valle (Claribelle Navarrete), a doctoral candidate and expecting mother from New Mexico, purchase a fixer-upper home next to Virginia Butley (Jennifer Blair) and Frank Butley (Chuck Sipps), a well-to-do middle-aged couple with a lush garden. The garden meant a great deal to Virginia and Frank, who were involved in a neighborhood garden contest that Frank had been determined to win for years, yet always came away with an honorable mention.
The garden becomes an epicenter of conflict between the two well-intentioned couples when Pablo and Tania discover that their property line is bigger than what they thought, extending into Franks flower bed. This discovery spirals into a border dispute between the neighboring couples, bringing a multitude of issues to the surface including, class, gender, race, age and nationality.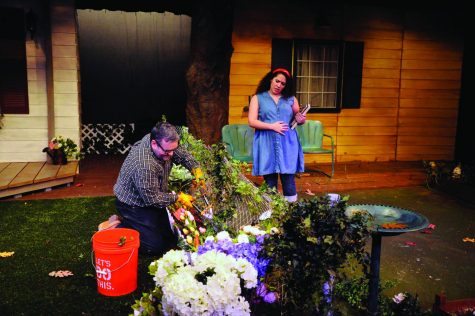 Both couples see the world from different perspectives. Each character brought unique life experiences that shaped the way they viewed the world, resulting in both interpersonal and intrapersonal conflicts.  When conflict arises, each person lashes out in their own way. Both sides appear to feel misunderstood, with an influx of hurt feelings resulting in strong emotions. The garden serves as a metaphor for border disputes, which is a topic of discussion across the world. A parallel is displayed throughout the performance; as the garden is uprooted and deteriorates throughout the play, the couples' friendship simultaneously deteriorates before they are ultimately reunited at the end by a common bond: new life.
The play also touches on issues such as ageism and gender. Conflicts displayed through Tania and Virginia sparked conversations surrounding age and gender. The layers of social commentary within the performance were relevant and well-received by the audience. Yet it didn't overwhelm the performance. Despite flooding its audience with information, the performance still told an engaging story. Each character was relatable and likable in their own way. Some of the actions each of the characters took or the things they said, did not always come from a place of kindness and understanding. It puts into perspective the flaws that we all share, especially when we might not have the proper information to go from.
"Native Gardens" reveals that everyone can learn something about the world and themselves through other peoples' perspectives and life experiences and that perspectives are ever-shifting and moldable. Friendship blooms and perspectives shift through acceptance, understanding, kindness and the commonalities we all share that make us human.