"Sheep" – Smile Empty Soul Review
Back in 2003, Smile Empty Soul seemed primed for major breakthrough. Their eponymous album, which featured hits such as "Nowhere Kids," "Bottom of a Bottle" and "Silhouettes," served as a perfect transition between the grunge-driven anthems of the 1990s and the hard rock madness the 2000s.
Vocalist and lead guitarist Sean Danielsen, whose raspy, labored vocals would seamlessly fit next to the great vocalists of yesteryear (think: Kurt Cobain of Nirvana and Layne Staley of Alice in Chains), seemed positioned to assume the torch precariously held by Puddle of Mudd's Wes Scantlin. Danielsen's riffs were reminiscent of the hard rock anthems that catapulted rock to a seemingly indefinite stay atop the mainstream music charts. Meanwhile, his lyrics fell in line with the angst that teenagers and young adult greedily latched onto. Combined, these three elements created a unique identity for Smile Empty Soul, an identity that propelled their self-titled debut album to certified gold status.
However, somewhere along the line, Smile Empty Soul's commercial appeal faltered. The quality of their music never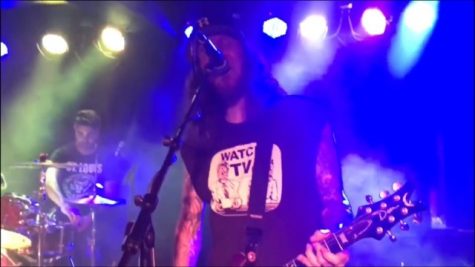 tapered, with Danielsen and company making a habit out of releasing quality, hard-hitting rock albums, yet the teenage demographic seemed to abandon the Santa Clarita rockers, no longer receptive to their objectively strong offerings. Just as teenagers aged out of their angst phase, Smile Empty Soul's debut album remained conspicuously absent from digital streaming platforms, depriving the trio of their foremost resource to regenerate a fanbase. On the other hand, a revolving door of labels–2005's "Anxiety" was shelved after a dispute with Lava Records–and a seemingly fluid lineup coincided with a downward trajectory for the rock genre as a whole.
Now operating under their own label, Smile Empty Soul is back and as good as ever with "Sheep," their first release since 2018's contemplative "Oblivion." The band, now consisting of just Danielsen and drummer Ty Del Rose, adopts a moody tone for "Sheep," a sharp juxtaposition from the reflective resonance of "Oblivion." Short and sweet, "Sheep" is an exhibition of quantity over quality, never overstaying its welcome and avoiding track inundation for the sake of filler, a noble trait in an industry that now values aggregate streams over album sales. 
The concept of struggle and subsequent coping mechanisms manifests itself as the central theme of "Sheep," with both "1984" and "Hang Your Head" exploring the emotional and psychological ramifications of disappointment and failure. In "1984," Danielsen subtly hints at the harrowing prospect of relapsing into drug addiction and how such a dependency batters an individual into subservience. Meanwhile, "Hang Your Head" examines the me-against-the-world mentality that accompanies the pursuit of success and the exhaustively overwhelming nature of it ("I can feel my back against the wall, it's something I can't fight, a prison for the mind )." Once we embark on a journey to achieve our dreams, we find ourselves unable to pause until we have satisfied our initiatives. Unfortunately, once we achieve our goals, we commence a vicious cycle of upping the ante in pursuit of loftier and more unrealistic dreams.
Smile Empty Soul offers a morbid resolution to the conflict of "1984" and "Hang Your Head" in "Plentiful World," the EP's third track. Jaded and tired, Danielsen suggests his withdrawal after one last attempt, a valiant last-ditch effort underscored by tentative resignation. Alongside "Blinders," "Plentiful World" appears to be to highlight the battle between struggle and delusion, two mutually exclusive experiences that oftentimes overlap. 
The EP concludes with "Watch the Water," which upon first listen seems to illustrate a pointed narrative of belittlement and oppression masquerading as support. The closing track offers listeners an outlet for the pent-up frustration that defines the remainder of the six-track EP, with Danielsen offering rebellion, apathy and self-sacrifice as the ultimate solution ("I'll be glad to take you down, sacrificing myself").  Like the rest of "Sheep," "Watch the Water" operates as an energetic anthem of melancholy and the preemptive shedding of an overbearing burden. 
"Sheep" is built on a foundation on scintillating riffs and dejected lyrics, building anticipation for each crescendo with tempered instrumentals and unguarded lyrics. If you've never experienced Danielsen perform live, he's one of the premier performers of the rock n' roll genre, offering resounding vocals unencumbered by his masterful navigation of complex chord progressions.
As artists, Smile Empty Soul deserve greater recognition for their musical contributions. However, the music industry is a fickle place. The last time Smile Empty Soul visited the Chicagoland area, they played to a crowd of approximately 20 concertgoers in a tiny bar on the outskirts of Barrington, Ill. While rebuilding their fanbase might prove to be a difficult project, "Sheep" will remind listeners of what made Smile Empty Soul so special in the first place. 
Enjoy this review? Check out some of our other recent album reviews: