NEIU president and provost pledge money to undocumented students
NEIU President Gloria J. Gibson and the new Provost, Dennis Rome, pledged $1,000 each towards resources for undocumented student resources. The money will be donated from Gibson and Rome's personal bank accounts. The pledge came as a follow up to a question asked by a student at the Town Hall meeting on Sept. 24.
The president of ChiMexLa, Sara Galvan Orozco, a student who is double majoring in studio art and Latino studies, stepped up to the microphone on Tuesday afternoon to represent the many undocumented students that did not feel safe enough to do so.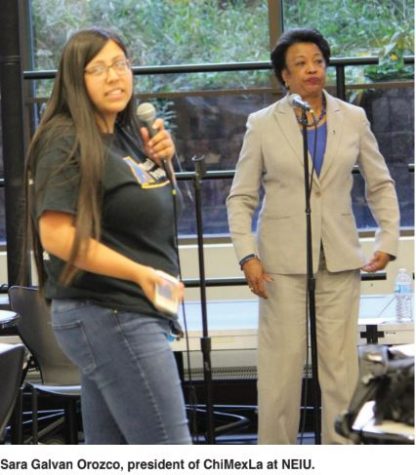 Galvan Orozco asked, "How will you make it up to students? One of requests to you is to invest just as much time and money to undocumented student issues at school. They are in need of help. People are getting detained and stopped by Immigration and Customs Enforcement (ICE)…We need to do better by them. Other institutions are offering the undocumented student population detail-oriented programming to support them."
She also asked Gibson if the university could invest $25,000 in Deferred Action for Childhood Arrivals (DACA) renewals as this is an issue many students have already expressed they are struggling to pay.
Gibson responded by saying that she was not aware of this and asked for further explanation. Gibson asked how often students are required to renew their DACA applications. Rome then asked how much a DACA renewal application costs and how many students are paying towards renewal each year at NEIU.
The cost for one person to renew a DACA application is approximately $500, sometimes close to $600 with mailing fees applied. DACA recipients must renew their applications every two years. According to the Vice President of Student Affairs, Dr. Daniel Lopez, approximately 300 undocumented students attend NEIU which amounts to about 3.7% of the student population.
Lopez explained that while NEIU does have on-campus resources for undocumented students', it does not have the financial resources to provide DACA renewals for every student.
After hearing this, both Rome and Gibson pledged $1,000 to help provide resources for undocumented students on campus. The money will go into an existing fund for undocumented student resources which will then be used according to a plan set up by Assistant Dean of Students and Director of Undocumented Student Resources, Luvia Moreno. Gibson says she has, "every confidence that Luvia will come up with a process by which to disperse the dollars."
Approximately 30 of NEIU's undocumented students on campus will need to renew their DACA application this year. Gibson said while the $2,000 is a start, NEIU still needs more funds, which is her goal in order to help students, potentially, only have to pay half of the $500 renewal fee.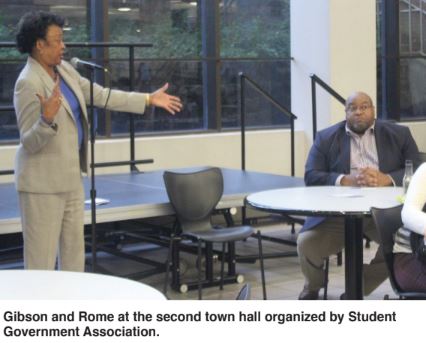 Galvan Orozco said afterward that she appreciates the initiative taken by Rome and Gibson. She explains that $2,000 has the potential to fund DACA renewals for four students. Galvan Orozco said, "The only downside about the pledge is that it only helps DACAmented students and not those who were not eligible for DACA." She says that moving forward, it is her goal to work with Gibson to create more non-DACA related resources on NEIU's campus for undocumented students. Galvan Orozco wants to transform NEIU into an increasingly progressive campus that provides a welcoming environment for incoming undocumented students, "Students like me are ready to have this conversation and not only talk the talk but walk the walk. In other words, we are ready to take action and support NEIU in developing their undocumented student resources."
Following the event, both Gibson and Rome said they were surprised to find out how much in fees undocumented students at NEIU are having to pay every year. They both feel many people are unaware of the fees that undocumented students are having to pay and expect the internal donors will donate to the fund as well, now that they are aware of the issue. They also hope to obtain donations from outside sources as the word gets out. Gibson said as a follow up to the event, "We certainly support, strongly support our DACA students and we're going to do everything in our power to make sure that they are successful here at NEIU."
If anyone is interested or wants to learn about becoming an ally to undocumented students, there will be a workshop hosted by Moreno on Thursday, Oct. 24 from 3 to 4:30 p.m. The training will provide attendees with increased awareness of the issues and concerns of NEIU undocumented students and their families, as well as, knowledge of NEIU's policies and practices that impact undocumented students. The workshop will also highlight ways to cultivate an open and supportive campus.
If you have any questions about this topic, you may also contact Luvia Moreno, Assistant Dean of Students and Director of Undocumented Student Resources at [email protected].