Alternative Spring Break to kickoff next year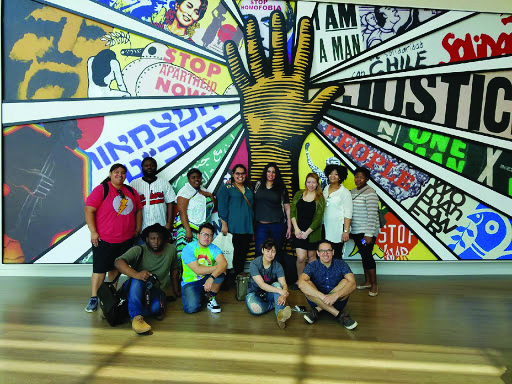 Applications have gone up for the 2018 Alternative Spring Break program, a series of trips that students can take during their Spring Break vacation to help improve the lives of others.
Meals and lodging will be provided to those accepted into the program. Students would need to pay a non-refundable $50 if selected and will be expected to fundraise another $50 or $150 to be used by the group for a project that will benefit the local community.
However, the program is not just a service trip, it is an immersion into the everyday experiences and real-life conditions of people from different communities. One trip exposes students to the border between Mexico and the United States, and the immigrant life when crossing it.
"It's not glamorous," Assistant Director of Student Leadership Development Rae Joyce Baguilat-Bukovsky said. "You're not being fed feasts. It is about trying to walk in the same footsteps as them. It's not about sympathy, it's about empathy."
The trips will take place next year, with four different options for students to choose from. Students may apply to all four trips, with their preferred choice being the first one. If accepted, they will be interviewed to see if they qualify.
All trips will leave on Sunday, March 17 and return on March 24.
The first option for a trip goes to Washington, D.C., where students will be exposed to the life and culture of those who experience homelessness. Those participating will work at a homeless shelter, providing all manner of services like serving in a soup kitchen.
The second option is to travel to Tucson, AZ, to examine the relationship between Mexico and the U.S. near the border. Students will also cross the border to witness the harsh reality of immigrant life and courthouse procedures, according to Billie Kersh, an NEIU grad student who attended the trip earlier this year.
"The most powerful thing I saw was the lists of remains that have been recovered," Kersh said, when her group went on the "desert walk," the dangerous path that immigrants take to cross the border.  "Some were not even identified and just read 'unidentified female.' We went around in a circle and had a moment of silence for them."
The language barrier and the lack of knowledge of court procedures often place immigrants that are to be deported at risk, Kersh said, as the judge asks them difficult questions in legal jargon. They agree to be sentenced to a detention center for months and the charges remain on their permanent record forever.
"We visited the detention center and sat down with the people who were living there," Kersh recalled. "I talked to a 27-year-old man from Ecuador who has been living in the center for 14 months. He didn't know how long he'd be there, and he was currently seeking asylum."
"He told me that he didn't feel safe in his own hometown. That at least he had a clean bed and food to eat here. He never got to truly experience the U.S.," Kersh said.
The third trip will take students to the refugee settlement in Clarkston, Georgia. Participants will learn about refugee settlements and will work closely with elementary students to serve refugee youth and families in need.
And lastly, the fourth trip will take students to New Orleans, Louisiana, where they will work on restoring the wetlands and gardens to support the region's environmental sustainability. Activities include planting large weeds to protect the land from wind erosion and other projects on the culture and arts of New Orleans.
"It is a humbling experience," Angelina Pedroso Center student aide worker Adriana Mata said.
Mata's first trip took her to the Tantre farms in Michigan to learn about healthy organic produce, and how oftentimes junk food will be more available than more nutritional options.
"It's eye opening. You learn about how everything is a snowball effect. One thing leads to another. And you get to help those communities in need."
"The experience is life changing," Kersh said. "For me it was an incredible experience, connecting with other students. We became like family."