Review: Atoms for Peace – Amok
4 out of 5 Stars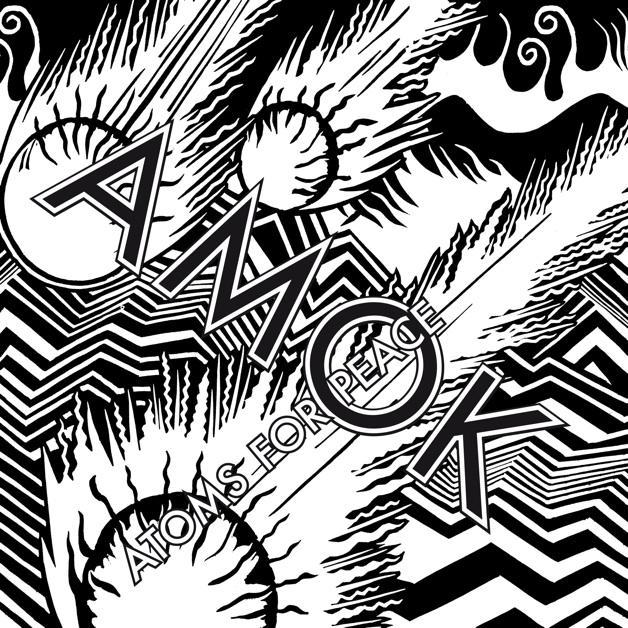 Looking back on Radiohead's Pablo Honey, their (sometimes dreaded) first record from 1993, it's no surprise that the band as a whole explored and experimented over the years in the ways they did and are still doing. That said, it's also no surprise that frontman Thom Yorke isn't confined as a songwriter, nor to the anatomy of a guitar neck. Avid Radiohead listeners are more than familiar with the fuzzy resonance of "There There," the dreamy non-album acoustic track "True Love Waits," and the semi-acid flurry of "Bodysnatchers." Listeners are also no strangers to the more drum and bass driven instrumentation approach that made up the bulk of Radiohead's latest full-length release, The King of Limbs back in 2011, as well as what Yorke can do on his own terms with the ability to fluctuate in a studio between keys, strings, and programming with his debut solo project from 2006 entitled The Eraser.
This time around, Yorke is at it again, fully ready and able to flesh out a side project that has been in the making since then; Atoms for Peace and their debut record Amok. Yorke leads an interesting gallery of who's who that he originally gathered up with in order to tour and play live versions of his solo work. With Yorke on vocals, guitar, keys, and programming, Flea from The Red Hot Chili Peppers on bass, of course, and long-time Radiohead producer Nigel Godrich behind the technicalities of aiding with additional programming and acting as producer to boot, with former R.E.M. member Joey Waronker on drums. Mauro Refosco provides additional percussion.
Amok opens up with "Before Your Very Eyes," as cascading swarms of electric wasps flow through air channels leaving behind waves of synth. Accordingly, "Default" is a textured piece layered and looped with percussive beats through and through, leaving little room for Yorke to get across a thought of desire as he mutters "The will is strong but the flesh is weak" in a rigid manner. The even more synth-drowned "Ingenue" is Yorke's vocal calling card (or at least one of) at work. His ghost of a voice croons and gently wails of something to the effect of mournful longing and longing and longing…
On an even spookier note, "Unless" could very well be a haunted house theme more than the band make it out to be. Vibrations from the ilk of an organ set the tone with falling ticks and tacks making up the percussive storm around it. One of Flea's rather "catchier" moments, considering his instrument, lie within the groove of "Judge, Jury and Executioner." A somewhat throaty bass riff is complimented by Yorke's acoustic guitar picking.
Amok is a drifty collection of songs that really doesn't need presentation from the likes of"super group" collaboration, for the record can be considered a follow-up to Yorke's Eraser. Though, needless to say, it's always enthralling to hear musicians partnering up with each other just to see what kind of bizarre arrangements they can pump out. But, Amok isn't an entirely new effort. Not only does it have similar elements from the Eraser, but it isn't terribly far from the sounds of The King of Limbs either. As for the idea of attaching notable musicians to a project of this type and caliber, Flea might as well not be credited for being on the record (though we're glad he's here) because he can't be felt. Yes, it's electronic music, and listeners may not exactly expect Flea to slap the funk out of his bass, but he is not distinguished throughout the course of the record. It's just one set of hands too many for something that has been accomplished with great proficiency in the past with less resources, or even familiar band mates abound.
Amok is a record that requires several listens from start to finish because it is hypnotic and has the ability to entrance. Despite the rigid loops of layered beats, bass riffs and seldom, yet selectively placed guitar appearances that seem to repeat continuously, it is a very quickly paced record, though, not forgettable by any means.