Furloughs extended to save jobs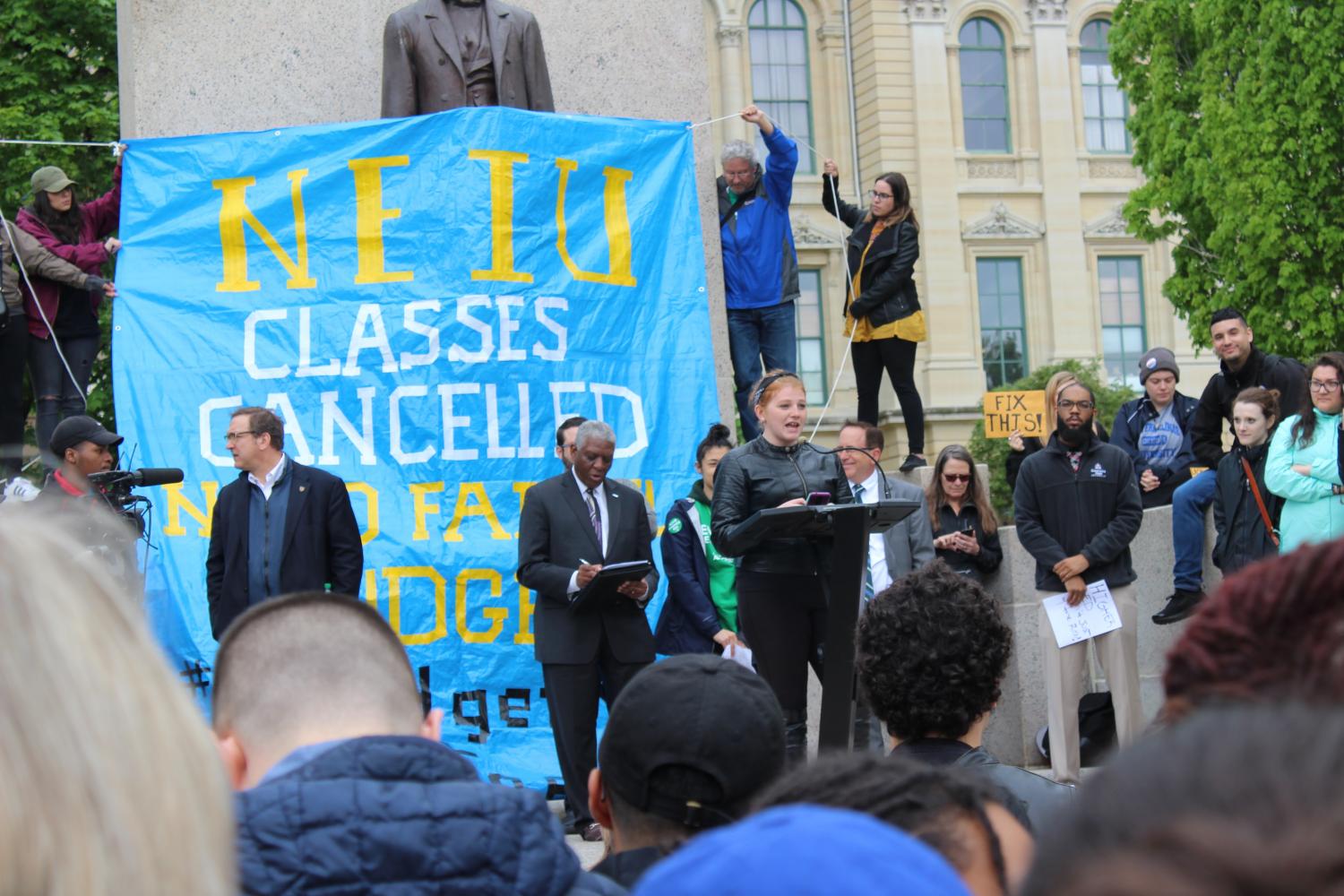 NEIU will continue its furlough program after officials in Springfield failed to pass a state budget. This means that administrative, professional and civil service staff will have to take one furlough day each week and student aides will not work on Mondays and Tuesdays.
"I wish I were here right now to report the end of furloughs," said Interim President Helldobler during the Town Hall meeting on May 5. "But we still don't have any money from the state. And if we don't get any additional funding, we need to balance a substantial deficit… The way that we are going to do this is by taking bold, brave, yet difficult steps to rightsize the university."
With no resolutions from Springfield to relieve the university of its 23-month-old impasse, fewer resources, less programs and flexibility in staffing are in NEIU's immediate future. Areas that are not producing enough results or gaining enough enrollment may be cut due to the school's budget, which is necessary  to save money for the next fiscal year.
The university will suspend the furlough program as soon as it is able to. NEIU Vice President of Finance and Administration, Michael Pierick, said that the university extended furloughs for administrative and professional employees and for non-union civil service employees to the end of the fiscal year on June 30.
"Negotiations are being conducted with unions on extending furlough days for those employees as well," said Pierick in an email. However, the State Universities Civil Service System disallows furloughs for civil service employees beyond Sept. 30.
According to Pierick, the university planned to save about $1.8 million for the first seven furlough days taken, including the five from spring break and two on April 11-12, plus the additional furlough day of May 1. From mid-May to the end of June, the university plans to save about $1 million.
"About 80 percent of the university's expenses are for personnel, so it's impossible to avoid massive budget cuts without eliminating positions," said Pierick. "The university has for two years conducted a careful review of each position hired, and had a hiring freeze for all but critical positions, so there are a number of vacant positions in the budget. By eliminating vacant positions and therefore avoid laying off employees, but if there is no funding from the state, it will be impossible to avoid layoffs entirely."
About 40 percent of the university's general operations came from a state budget, before the stalemate.
Currently, the Senate Bill 0006 (SB6) was approved by the Senate on May 17. If passed by the Assembly and signed by Governor Rauner, it would provide NEIU with about $17.3 million for the fiscal year of 2017, and an additional $31.4 million for the fiscal year of 2018. The funding would be enough to keep the university open and running without having to rely on more furlough days or possible layoffs.