Former Obama adviser gives free keynote address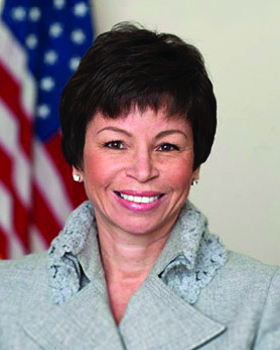 Valerie Jarrett will not be accepting payment for her keynote speech at Spring Commencement this May.
The NEIU Board of Trustees faced disagreements stemming from $30,000 honorarium that was set to pay Jarrett amid the continuous financial gridlock imposed by the Illinois State government.
"The speaker fee that we intended to pay is well within what is typical of Commencement speakers for any major university. We are so very fortunate to have the kind of high-profile speaker, like Valerie Jarrett, that our graduating students deserve," said NEIU Interim President Richard Helldobler in an email on April 13. "We are not going to let Springfield punish our graduating students by keeping them from having a proper send off. I regret that our University Community, the Board of Trustees and Ms. Jarrett were subject to this unnecessary drama."
The high profile speaker and former adviser for the Obama administration is contracted to deliver her speech to the graduating class of 2017 and receive an honorary degree during commencement.
However, for a moment an unidentified philanthropist offered to pick up the tab.
According to a Chicago Sun-Times article published on April 11, NEIU spokesperson Mike Hines said, "Since last week's Board of Trustees meeting, we have identified a generous donor who will cover the cost for our Commencement speaker."
The Sun-Times reported that Hines did not have details on the mysterious donor.
Within a follow-up article the next day, the Sun-Times confirmed that Jarrett would speak at NEIUs May graduation for free and that a spokesperson for Jarrett said she was unaware of the financial distress NEIU has faced. The Sun-Times also reported on the additional furlough days agreed upon to close the school in order to keep the it afloat during a budget impasse that has lasted 22 months.
The last agreed-upon furlough day for the Spring semester is set to take place May 1.
Helldobler called coverage on Jarrett's former honorarium amount "a distraction."
"What people should really be talking about is the $17 million that the state has shorted Northeastern Illinois University this fiscal year," he said in his email. "This is what we must focus on and continue to draw attention to every chance we get."
According to Helldobler, a bill for another round of stopgap funding for higher education and human services cleared the Illinois House but not the Senate before they broke for their spring break. Gov. Bruce Rauner has already promised not to sign it, even if it passes the General Assembly.
Currently the stopgap is not the only bill in circulation that would affect NEIU's finances.
According to an April 22 report by the Chicago Sun-Times, politicians have noticed the situation that State-funded institutions and are taking action.
State Rep. Mark Batinick, R-Plainfield, plans to follow through with bill HB 4033. If this bill is passed, state universities and community colleges who collect state appropriations would be prohibited from using public funding to pay commencement speakers to deliver their speeches at graduation ceremonies.
"There are plenty of successful people who believe it's about giving back," Batinick told the Sun-Times. "It should be an honor to give that speech."
Additionally, Batinick said to The Southern Illinoisan in an article published on April 17 that paying a commencement speaker is not the "best use" of public funding during a time of layoffs and furlough days.
"If you expect to get paid for that sort of speech, you don't deserve to give that sort of speech," he told the Carbondale newspaper.