NBA end of year awards predictions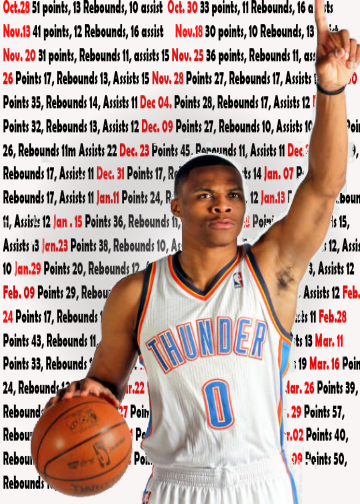 This 2016-2017 NBA season has lived up to the hype that none of us NBA fans were expecting.
In this single season, we witnessed a new collective record for triple-doubles in a season  (115), second-year guard Devin Booker of the Phoenix Suns, became the youngest player to score 70 points in a game and Giannis Antetokounmpo, of the Milwaukee Bucks, became the first player in league history to be top-20 in all five major statistical categories. As the regular season has ended and the playoffs have started, it's almost time for the league to give out its yearly awards. This year will definitely be a tough one for voters.
Rookie of the Year –  Dario Saric, Philadelphia 76ers
Saric's frontcourt mate Joel Embiid was the leading rookie before he suffered a season ending knee injury. Since then the gap between him and other first-year players have closed and has come down to two legitimate players, Saric and the Milwaukee Bucks' Malcolm Brogdon. Though Brogdon is playing in the postseason while the 76ers never had a chance to get there, Saric has had a bigger impact on his team. For the season, he's averaging 13 points with 41 percent shooting from the field. He's also averaging six rebounds and close to a steal per game. He ranks in the top of the rookie leaderboard in points, field goal percentage, and minutes played.
Most Improved Player of the Year – Nikola Jokic, Denver Nuggets
The future for the NBA's big men is in the hands of players like Karl-Anthony Towns, Kristaps Porzingis, Joel Embiid and Anthony Davis. One big man that's flying under the radar is Nikola Jokic. In his sophomore season he's bumped his scoring average up from 10 points per game to 17 and his rebounds went from five per game to seven while increasing his assist and shooting percentages. While his stats don't stand out as much as other players who could win this award, his potential is what many fans and players in the league have taken notice of. He's a seven foot center that can pass and move like a guard, which isn't the norm of this league.
Defensive Player of the Year – Rudy Gobert, Utah Jazz
No one outside of the Jazz organization could've predicted this stellar play on both ends of the floor for the 7'1 Gobert. The third year player from France has solidified his place among the best defensive players in the league with his season leading block average of 2.6 while averaging 13 rebounds per game as well. His play doesn't end there. He's anchored the young Jazz to third best defensive rating in the league, trailing the San Antonio Spurs and Golden State Warriors. What's interesting about this team defensive ranking is that each of these three teams has a defensive specialist who could take home this award, players being forward Draymond Green (GS) and Kawhi Leonard (SA). Gobert's out with an injury and that could hurt his stock. If he could find a way to rejoin his team in the postseason and put together a few solid games, there's no reason why this award should not go to him.
Sixth Man of the Year – Eric Gordon, Houston Rockets
Taking a backseat is sometimes hard for players who know that they could be starting, but that's not the case for Gordon. The eight-year veteran of Indiana played with three different organizations, the Los Angeles Clippers, New Orleans Pelicans and now the Houston Rockets. What's different about this Rockets teams is Gordon is looked at as a first or second option, which takes the pressure off of his shoulders. Now, almost a full season in, he's arguably the best shooter on the team and isn't afraid of the big moment. He's been a nice complement to James Harden, another player who's been having a stellar season. Mike D'Antoni has always leaned towards a run-and-gun style of play, and this season he might have a few players recognized around the league because of it.
Most Valuable Player – Russell Westbrook, Oklahoma City Thunder
There's are legitimately four players that could take this award home this season: LeBron James of the Cleveland Cavaliers, Kawhi Leonard of the San Antonio Spurs, James Harden of the Houston Rockets and Russell Westbrook of the Oklahoma City Thunder. Westbrook has a slight edge because what he's done this season, no other player has done since Oscar Robertson 1962-1963 season to average a triple-double. In this same season he passed Robertson for most triple doubles in a single season with 42. NBA analysts in the beginning of the season had his Thunder team on the outside of the playoffs when Westbrook's superstar teammate Kevin Durant signed with the Golden State Warriors in the offseason. Though stats don't define an MVP season, we have to give credit when credit is due. If Westbrook gets this team out of the first round of the playoffs against Harden and the Rockets, he gets the MVP award.
Other notable awards:
Coach of the Year – Brad Stevens, Boston Celtics
All-NBA first team – Russell Westbrook (OKC), James Harden (HOU), Kawhi Leonard (SA), LeBron James (CLE), Draymond Green (OKC)
All-NBA second team – Stephen Curry (GS), John Wall (WASH.), Jimmy Butler (CHI), Kevin Durant (GS), Anthony Davis (N.O.)
All-NBA third team – Chris Paul (LAC), Kyrie Irving (CLE), Klay Thompson (GS) Giannis Antetokounmpo (Mil), DeAndre Jordan (LAC)