SLD Renovates Student Lounge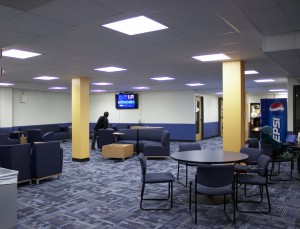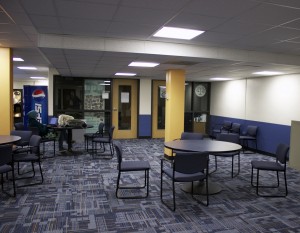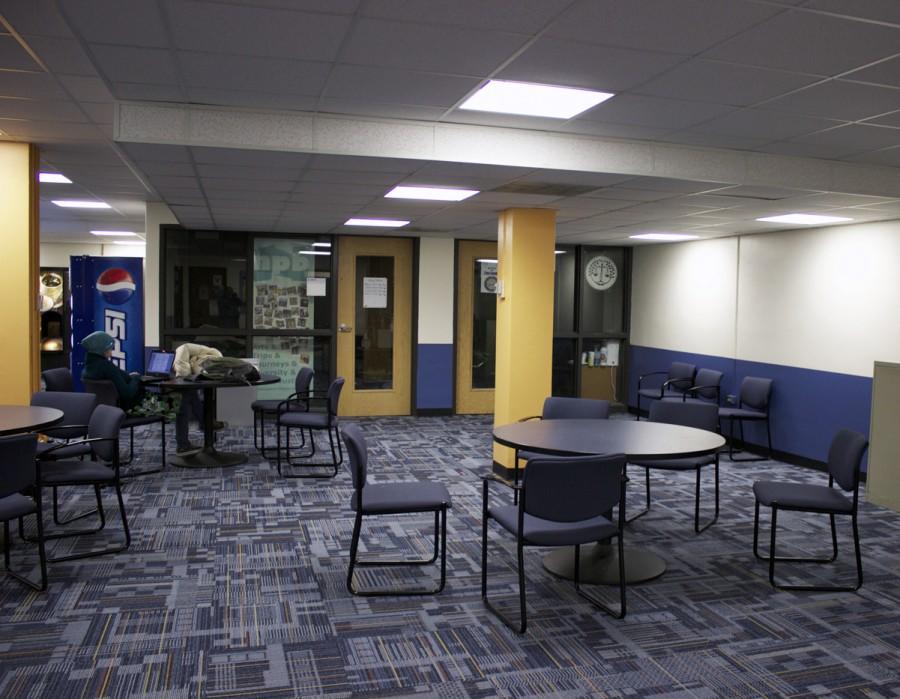 The student lounge in the LWH basement has a fresh new look after weeks of renovation. The lounge has a brighter appearance with new carpeting, paint and color-coordinated chairs. Initiated by the Office of Student Leadership and Development, the upgrade is meant to create an inviting social space for students on campus.
"We have seen a greater influx of students since the renovation," said Ian Stroud, Interim Assistant Director of Student Leadership and Development. Sure enough, students could be seen scattered about in all corners of the lounge on the blue and beige chairs. The upgrades include patterned, bright blue carpet, coordinating paint, new tiles leading into the WZRD Radio Station office and large screen TVs.
The renovation was necessary and long waiting, Stroud explained. The old lounge had been worn out, seemed somewhat like a "dungeon," and did not provide a welcoming space for students to gather or study.
"Our job is to make sure student life is thriving," said Stroud. The new lounge is now arranged in a way that creates an atmosphere where student clubs and study groups can meet. Adjacent to the lounge is a spacious newly carpeted room also available for club meetings and small events. The lounge is also the projected venue for future socials, such as Brown Bag Lunches and March Madness Basketball.
Although some students may have found it inconvenient to avoid the lounge during the weeks of construction, Northeastern Illinois University (NEIU) student Monica Hernandez says it was worth the wait. In her second semester at NEIU and as a regular visitor to the lounge, Hernandez said the new space is more "modern" and comfortable.
"It is not a sleeping lounge anymore," she said. She also says she was glad it was done in the beginning of the semester, not close to mid-terms or finals.
The upgrade is not complete, however. The staff of Student Development hopes to bring in more furniture, bulletin boards, a student mural and maybe even gaming systems. Aimed to become a vibrant entertainment and programming space, the new lounge will barely resemble its precursor.