The Rise and Fall of Another Empire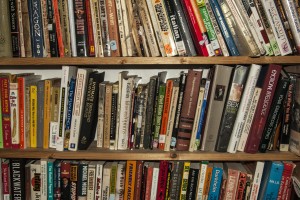 E-books are on the rise along with the decline of bookstores. According to Associated Press, Dan Sewell, the first sign of the end of tangible books came when Borders went bankrupt and closed their last store on Sept. 18, 2011. Borders once thrived before the arrival of the internet, Amazon and e-book technology. Now, these advances have even started impeding the giant, Barnes and Nobles (B & N). A new era has been emerging and is about to claim its rule, if it hasn't already.
B & N cannot compete given the technological advances in smart phones, tablets, and better yet, the affordability of it all. Is it economically sufficient to keep on producing paper based book, especially when e-book option is better and more readily available?
The strongest indicator of this: When B & N announced plans to close a third of its venues in ten years according to webpronews.com, by Amanda Crum. How bad is this? It averaged out 20 stores a year, leaving around 475 stores out of 689 open. This is not a recent trend though, the past ten years, B & N has closed down about 15 stores a year due to decreases in profits, according to the company's spokeswoman Mary Ellen Keating.
Over the Christmas-new year holidays B & N sales significantly decreased, signaling an alarm based on retail sales from the company's bookstores and its website, BN.com. During the holiday season, sales may give pivotal insight on the survival of a business. The forecast was grim, there were a drop of 10.9 percent for retail sales and 12.6 percent in nook and related sales. Even though, B & N's nook first helped the business. Now, it is uncertain if its e-book reader can withstand fierce competition from kindle, ipad, and other technological devices that have an e-book function.
Some students may oppose this technological transition because of its cost. In Jan. of 2012, as a response to an increase in libraries purchasing e-books the local chapter of the NAACP, held a demonstration at Rockford's main library. According to Sanhita SinhaRoy on americanlibrariesmagazine.com. The protestors stated that the increasing shift towards digital media will leave behind traditional users and those without money or access to new technology.
Other students may be in favor of the trend. When comparing e-books to physical textbooks. It would seem this transition make sense because of easy access and less weight in their backpacks. The Consumer Products Safety Commission estimates that 4,928 emergency room visits each year result from injuries related to book bags and back carriers.
B & N had a long successful history in the book industry. The company says they plan to further develop their nook and consider branching off to the tablet technological field according to Crum's article. However, they need to act fast and do a great deal more in order to sustain themselves.