Drafting Well Could Save the Bears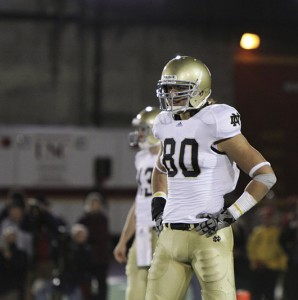 The Bears defense has always been their strength. Even this year they were one of the best defensive teams in the league by boasting the fifth best yards allowed (315.6 yds/game) and third least points allowed (17.6 PPG). However, some of the key defensive players, like linebackers Brain Urlacher and Lance Briggs, and defensive back Charles Tillman, are nearing the end of their careers. Even with that in mind, the Bears need to improve on the offensive side of the ball if they wish to capture a title in the next few years, and those improvements start on draft day.
In all honesty, the Bears have not had much success over the past five years in the NFL draft. During that span they have only produced two pro bowl players: running back Matt Forte and defensive end Henry Melton. Now, with the Bears under second year General Manager Phil Emery and new Head Coach Marc Trestman, the Bears front office will have learned from the past and have a new strategy for this year's draft.
The Bears are a solid team but they are a couple pieces away from making a deep playoff run with the current roster they have. The biggest problem has been the offensive line. Jay Cutler is still probably having nightmares after being sacked 40+ times for the third season in a row. The biggest problem has been left tackle for the past couple years. Current right tackle, Gabe Carimi, was supposed to be the left tackle of the future, but seemed to be more suited for right tackle or right guard. Before him, the Bears used their 14th overall pick on Chris Williams from Vanderbilt. Calling him a bust is being nice, and he is currently playing guard for the Rams.
Another position that needs a buff is tight end. The Bears current tight ends combined for 297 yards and 3 touchdowns last year. With such poor performance from them, the Bears really need to address this issue.
In this upcoming draft the Bears have the 20th selection, and they have a couple options for what they can do in this draft. The first option is to trade up into the top five to draft either Luke Joeckel from Texas A&M or Eric Fisher from Central Michigan. Either of these prospects would be a good fit for the Bears at left tackle, but they will have to give up multiple future first round picks in order to do that. While this would not be the smartest option because of the cost of moving up, but it would be nice to have a left tackle to count on for the future.
Other than from Joeckel and Fisher, the number of first round tackles is scarce. The rest are right tackles, which the Bears do not need, or are valued at much less than a first round pick. However, there are two emerging tight ends in this draft, Tyler Eifert from Norte Dame and Zach Ertz from Stanford. Eifert and Ertz are huge at 6'6 and about 250 pounds. They both struggle with blocking, but they are terrific receivers. Eifert would be the preferred choice over Ertz because he is more physically gifted. His 40-yard-dash, vertical, and broad jump all exceeded Ertz's. While Ertz is more knowledgeable now, Eifert has a greater potential to learn and become another threat alongside Brandon Marshall.
While the Bears will most likely not draft a top left tackle, 4-time pro bowler Jake Long is struggling with the Dolphins to get a new deal. If they cannot get a deal finalized soon, he will become a free agent. He will not come cheap, but the Bears ought to offer him a blank check to watch Cutler's blindside.
Look for the Bears to snag Eifert with the 20th pick of the first round. After that they will probably grab some help in the secondary and offensive line. They should take a chance on a late round linebacker to maybe replace Urlacher. Jerry Angelo and Lovie Smith always made draft day a nightmare, but hopefully Phil Emery and Marc Trestman learn from their mistakes and finally help out the offense.