Michelle Cross and Joe Frawley- Dolls Come To Life
5 stars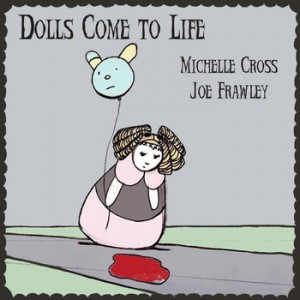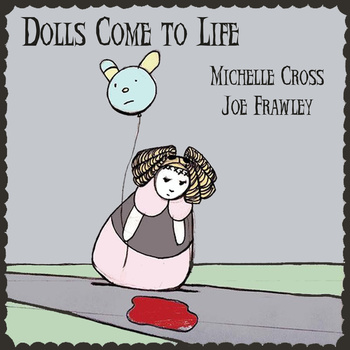 Northeastern Illinois University's own Michelle Cross has conveyed to those who attended the 2012 annual talent show back in September, that she is no stranger to the piano, nor is she timid about releasing brooding vocalizations to compliment her dreary arrangements. It's apparent that Cross can turn an entire auditorium of intent listeners into melancholic observers all on her own. But, take Cross's piano work and her potent mood setting vocals, and layer that with the engineering of experimentalist and sound collage artist, Joe Frawley, a musician based in Connecticut, and you have Dolls Come To Life. It's an album that borders on the bizarre realities of recalling hazy childhood memories and the subtle horror that comes with imagining why people find dolls, puppets, and the like, to be such intriguing artifacts.
Dolls Come To Life opens in a most unsettling way. Frawley's sound collage work paints a vivid picture of sinister inhabitants of a doll house waking with the eerie semi-instrumental/spoken word track "Scenes from the Doll Hospital." The listener fluidly moves into Dolls Come to Life-Part 1. Lyrics like "as soon as you close the door – the party continues," further solidify the idea of animation within the seemingly lifeless.
"Marionette" is a lush ballad with an almost chrome sounding piano introduction and closing, and flourishes with wooden flute accompaniment, compliments of Win Ridabock. Frawley's experimentalism is evident on every track, but "Wish Thing" and the album's final song, "Porceline," are superb and at the same time, disorienting, with their arrangements of looped sound snippets and waves of reverberation. Cross also puts a fresh spin on the Rodgers and Hammerstein classic "My Favorite Things," but prefers "Hand-written poems and soft-hearted villains" as opposed to the traditional "Raindrops on roses and whiskers on kittens," Cross said.
The creative chemistry between Cross and Frawley sparked almost out of nowhere, aside from the convenience of communicating through Facebook, just merely out of appreciation for certain types of music and artists. Initially, Cross had some versions of the songs from the record premeditated, but it was Frawley's technical ingenuity that made them even more hauntingly expressive and emotive. The two shared their own work by way of setting up a shared Dropbox account (that was renamed The Lobster Trap) where both Cross and Frawley would send each other recorded pieces they had been composing, and the outcome of this distant partnership proved to be astounding. "[Frawley] took all those things (recordings) and spun and spun his dream web until one day, he sent me the final lobster and it was so gorgeous," Cross said.
Cross and Frawley's collaborative work Dolls Come To Life can be purchased from http://dollscometolife.bandcamp.com/album/dolls-come-to-life, and is available in digital and CD formats. Both formats come with two bonus tracks upon purchase.
Michelle Cross will also be playing over the airwaves from NEIU's WZRD station March 7, 2013. Be sure to tune in to 88.3 FM that evening.