Small North Park Chocolate Shop is Still a Big Hit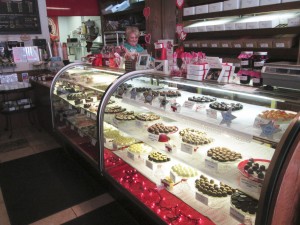 The name Beijo de Chocolat is part Portuguese and part French and means "Kiss of Chocolate." And that is exactly what you'll get when you visit this sweet shop on Foster Avenue. Open for close to four years, Beijo de Chocolat is well known for their award-winning signature chocolate, the Brazilian Brigadiero. Traditionally, this is served as dessert in Brazil with a scoop of the rich chocolate center rolled in chocolate sprinkles and accompanied by some Espresso. But here, at Beijo de Chocolat, owner Laura Case takes her handmade specialties to the next level. "What I've done is changed the recipe a little bit and encased it in Belgium milk or dark chocolate," Case said. "Which puts a whole new spin on it, so the chocolate is very unique."
Case spent 20 years in the broadcast news industry, winning several awards, before deciding to make a career change. "It was a gradual change," Case said. "Basically you watch news and it's bad every day – bad bad bad – and it just started grinding on me after a while. I decided I wanted to do something that made people smile, but still maintain a whole wonderful level of creativity and just do something different."  Case left the news industry and attended a French pastry school in Chicago to become a pastry chef. She expected to be doing more cakes and wedding cakes, but Case said she fell in love with the chocolates. "I love making them and creating the different centers and flavors and that kind of thing. They are all beautiful!"
Her original plan was to open the store in Colorado, but she found the store on Foster and said she fell in love with it. "I thought it was the cutest thing," Case said.  The store is small but does have a nice seating area for customers to relax and use the free wi-fi while enjoying desserts or some of the signature drinks. Case said students come in all the time, but most of them are from North Park University since they live right there. "I don't think we get a lot of NEIU students because they come off the expressway or from the other direction and they don't even know we're here."
One of their other specialties is the "Hot Chocolate Lounge" with over ten different flavors from Fiesta Fireball to Chocolate Chai. There is also a daily special from 7-11 a.m. offering a Beijo size (medium) coffee with a giant donut for under $2 every day. According to another employee named Krunch, medium is the most popular size for drinks at other cafes, so they named their medium "Beijo." Now when customers order their medium drinks, they will get the store name on their mind.  Every Saturday is a big day with special crepes and quiches. The store gets crowded fast, so customers should arrive early.
One of the most popular items for all occasions but especially Valentine's Day and Mother's Day are the handmade, hand-painted chocolate boxes. There are heart shapes, teddy bears and a few other designs. The boxes are made out of chocolate. Everything can be consumed, plus it's filled with truffles. They recently started taking orders online and can now ship their chocolates around the country.
The store enters major chocolate shows every year around the country. "We're really excited," Case said, "We've done very well and won many awards."  Beijo de Chocolat was also voted 'One of the best chocolate shops in the country' for the last three years.
Some people even have an addiction to chocolate. "Clearly it's a brain thing. There's a chemical in the chocolate that people crave, especially a really fabulous dark chocolate," Case said. "There's nothing quite like it. It's beautiful and it can be addicting." Case said there are customers that come in and say, "I need a little hit" so she started making little bags of tiny solid dark chocolates and they call them 'The Quick Fix.'  Customers enjoy the chocolates and get a good laugh out of it.
The store is located at 3334 W. Foster Ave. and is open Mon-Fri 7 a.m. – 5:30 p.m. and  Sat. 8 a.m. – 4 p.m.