NBA early season predictions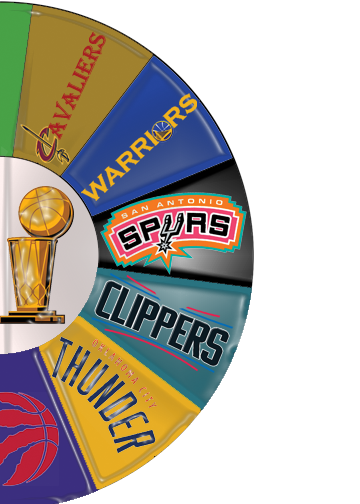 Today, basketball fans are in for the start of arguably one of the most interesting NBA seasons to date.
Kevin Durant parted ways with the Oklahoma City Thunder to form a juggernaut of a team in Golden State, hometown hero Derrick Rose was traded to the Mecca of basketball in New York to play for the Knicks and Dwyane Wade left the Miami Heat with three championships under his belt to join forces with Jimmy Butler on the Chicago Bulls. There's been plenty of player movement, but only one team can take home the Larry O'Brien trophy.
Main Contenders:
Cleveland Cavaliers-
Lebron James has been to the NBA finals for a consecutive six straight years. This feat is unmatched by any single player, excluding those who were members of the Boston Celtics in the 1960s. James doesn't have a player like Bill Russell on his team, but this year's roster in arguably more talented. The addition of Mike Dunleavy, via a trade with the Bulls, gave them another veteran forward who isn't afraid to shoot. Rookie guard Kay Felder will have a few years to develop behind Kyrie Irving and Jordan McRae. They also have one of the best benches in the league, which will help them to another 60 plus win season.
Golden State Warriors-
NBA general managers and sports analysts have the Warriors winning it all this year and it'll be hard to disagree with that. They signed one of the best small forwards in league history ,Kevin Durant, to play alongside Stephen Curry, Klay Thompson and Draymond Green. Though this team will be special offensively, their lack of depth will be exposed by the right team. Their bench was crucial in last year's record 73 win season. They were able to maintain backup point-guard Shaun Livingston, but lost Andrew Bogut (Mavericks), Festus Ezeli (Trailblazers), Leandro Barbosa (Suns) and Marreese Speights (Clippers). At this point, the Warriors are playing a risky game of "Russian Roulette", and if one of their key players gets injured, their season will be put in jeopardy.
San Antonio Spurs-
The Spurs lost Tim Duncan to retirement. Replacing the greatest power forward in league history is a tough task, but the additions of Pau Gasol and David Lee should suffice for now. Gasol gives the Spurs the same offensive punch that Duncan did, but isn't as keen to playing defense; especially in the pick-n-roll situation. There are rumors that power forward Lamarcus Aldridge could be on his way out after reports surfaced that he didn't like playing second fiddle to Kawhi Leonard. If these are rumors, and the team can find a way past them, they could find themselves back in the Western Conference finals after being eliminated by the  Thunder last year.
Could-be Contenders:
Toronto Raptors –
The surprise team last season was the Raptors. The duo of Demar Derozan and Kyle Lowry lead this team to a 56 win season. The roster is relatively the same other than a key loss of Bismack Biyombo (Orlando Magic). They have shooters and defenders but no identity. Last season, fans saw a lot of isolation ball from this squad, and head coach Dwane Casey doesn't fix that, this year we could see LeBron and company ease back into the finals.
Los Angeles Clippers-
It seems that the Clippers are always projected as title contenders but they never live up to the hype. They bolster one of the best starting lineups in the league, with a top tier point guard in Chris Paul at the head of it all. Deandre Jordan has gained more experience playing for team USA over the summer, and Blake Griffin should be fully recovered from his hand injury. This team could fight for the second seed in the West, ultimately avoiding Golden State until the Western Conference finals.
Oklahoma City Thunder-
Kevin Durant is gone and his pairing with Russell Westbrook is in the past. The Thunder organization is left with a lot of questions, but they're still in a good spot. Westbrook has proven that he could carry the team, as he went on a historic feat last season without Durant due to injuries. The Thunder will also see an upgrade at the shooting guard position after trading away veteran big man Serge Ibaka for Victor Oladipo, sharp shooter Ersan Ilyasova and rookie Domantas Sabonis. If things click at the right time for this team, then expect a deep postseason run out of them.
Under-the-Radar Title Contenders:
New York Knicks-
One of the most surprising moves made this offseason was the trade the Knicks made for Derrick Rose. Soon after, Joakim Noah, Courtney Lee and Brandon Jennings signed on.. This team has one of the better starting fives in the league, but their main downfall is health. Rose and Noah each has a history of injuries, and Jennings is coming back from an ACL injury. If Rose can put his legal issues behind him and show flashes of his earlier MVP season, this team could be a legitimate threat to the Cavaliers.
Houston Rockets –
All-star center Dwight Howard left the Rockets to play for his hometown, the Atlanta Hawks. The team traded starting point guard Jeff Teague away in hopes that Dennis Schroder will be ready to lead the team back to the playoffs. They lost Al Horford to the Celtics and are relying on Howard and Paul Millsap to man the middle. They lost depth, but, in the Eastern Conference, anything is possible. Kyle Korver, Tim Hardaway Jr. and Kent Bazemore are their main three-point threats, and Thabo Sefolosha is their best perimeter defender. The Hawks' season is heavily leaning on which Dwight Howard they're getting. If he's happy, then it's back to the productive "Defensive-Player-of-the-Year, Orlando Magic" Howard. If not, then you're getting the toxic locker room that his past teammates know all too well.