State lawmakers' race holds high stakes for students
Illinois Representatives Marwig and McAuliffe.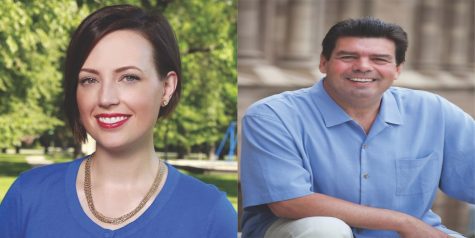 Merry Marwig and Michael McAuliffe may be unfamiliar to NEIU students, but their names will be on the same ballot this November along with household names such as Hillary Clinton and Donald Trump.
Marwig, a Democrat, and McAuliffe, a Republican and the incumbent, are running for the Illinois House of Representatives in the 20th district, which covers Chicago's 41st Ward, Norridge, Park Ridge, Rosemont and Des Plaines.
The outcome of that race and the other state Illinois General Assembly seats have consequences for NEIU and may mean the difference between passing a budget that funds higher education and MAP Grants or continuing the stalemate in Springfield that has cost the state jobs and vital services.
Marwig and McAuliffe have been called proxies in the ongoing battle between Republican Gov. Bruce Rauner and the Democratic-controlled General Assembly, led by House Speaker Michael Madigan. Money has been pouring into the two campaigns with McAuliffe getting the benefit of billionaire Rauner's deep pockets and those of his friend, hedge-fund mogul Ken Griffin, by a 3-to-1 ratio.
According to Illinois Sunshine, an online tool that tracks political contributions in the state, the McAuliffe campaign has almost $1.7 million in its war chest and Marwig has almost $619,000. McAuliffe's top donor is the House Republican Organization, which, according to an Oct. 1 Sun-Times article, gets its money from Rauner funneled through Citizens for Rauner and the Illinois Republican Party.
According to Vote Smart, a web-based project that tracks the votes, positions and the biographies of candidates across the nation, McAuliffe has voted with the governor on budget issues. He voted five times against higher education and MAP Grant funding between January and the end of May. McAuliffe never graduated from college and attended Triton College for one year from 1982-1983.
He took over the 20th district seat after his father, Roger McAuliffe, who served as state representative from 1973, died in 1996. Before his father's untimely death, Michael Mcauliffe served as his father's legislative aide and was an Illinois Department of Transportation employee from 1984-1997.
McAuliffe's opponent is a newcomer to politics. She identifies herself as a daughter of a union painter and fighter for the middle class. Marwig received her B.A. and M.A. from the University of Illinois at Urbana-Champaign and is a homeowner and small business owner.
While her top donor is the Democratic Party of Illinois, according to Sunshine Illinois, she has received sizable donations from unions, including the Chicago Teachers Union. A central part of the budget war is Rauner's insistence that lawmakers adopt anti-union measures in order to "turn around" Illinois.
In an effort to counter the governor, unions have backed a number of candidates running for state and local offices with donations and volunteers.
Students can register to vote by using the state's Online Voter Registration Application, https://ova.elections.il.gov/. The deadline to register is Oct. 23. Early voting runs from Sept. 29-Nov. 7. Election Day is Nov. 8.