The Braggart Soldier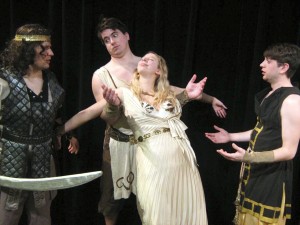 "It's a comedy about love, lying, plots against characters and what happens in two households when the characters aren't truthful to each other," Thomas Clyde, Communications major and The Braggart Soldier play's stage manager said. Northeastern Illinois University's (NEIU) Stage Center Theater presents The Braggart Soldier from Feb. 21-23 and Feb. 27 – March 2. The comedy, written by Titus Maccius and translated by Erich Segal, follows the character Palaestrio, a cunning slave, as he makes a fool out of the braggart soldier, according to the play's synopsis. Palaestrio's success depends on his powers of persuasion. The play is filled "with characters popping in and out just in the nick of time to avoid being caught in the deception," according to the synopsis.
The play's director Communications and Media Professor Lisa Cantwell has also done a lot of Children's Theater. After The Braggart Soldier she will be directing The Odyssey on Monday, Wednesday, and Friday throughout the month of April from 10 a.m. – 12 p.m.
Cantwell expressed nothing but enthusiasm for Stage Center Theater's first production of the semester. "I think it is a blast!" Cantwell said. "It has been such a wonderful experience, and I was honored to be asked to direct it." She anticipated the beginning of a new production year, and was excited about opening night for her cast. "I just want them to have fun," Cantwell said. "It is a fabulous cast and crew; just brimming with talent and energy."
Communication major Blake Malley plays the main character Palaestrio. Malley has taken part in previous performances at NEIU: Fuddy Meers, The Misanthrope and A Man's World.
The original version of The Braggart Soldier was written more than 2,000 years ago. However, according to Malley, it is set in modern times. As stage manager, Clyde was privy to all of the surprises and shocks the audience was in store for, but would not give anything away. "All I will say is that the play has some interesting twists to it," Clyde said. "Come and see the production, you will a have fun evening."