NEIU AGUA project flows like water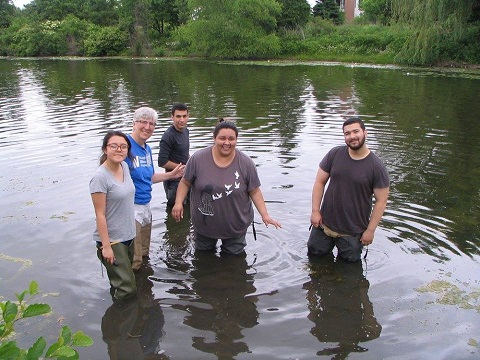 The AGriculture and Undergraduate Achievement project completed its first summer program this year.
"The program of the USDA is intended to try to bring more underrepresented students into the pipeline to eventually hopefully get some positions that are USDA related," said Laura Sanders, professor of earth science.
NEIU received a $275,000 grant from the U.S. Department of Agriculture to fund AGUA in 2015. The grant was only applicable for Hispanic-Serving Institutions.
Sanders is joined by Associate Professor of Biology, Pam Geddes and Earth Science Instructor, Jean Hemzacek. Together, they make up NEIU's three AGUA mentors.
NEIU formed a partnership with the USDA in 2009, which brought Julio Puentes, regional director of the USDA in to collaborate with NEIU. The university set up an office for Puentes and, since then, has received four grants from the USDA. The two most recent grants were for the Hispanic-Serving Institutions Program in 2015 and the Multicultural Scholars Program, which was awarded last May.
"He's trying to connect the USDA with college students in the Midwest," Sanders said. "We are so lucky to have him on our campus."
There are three main components to the AGUA project: a summer research program conducted at the school, which include trips to field sites that last for two years; a summer internship that is held at the National Soil Erosion Research Laboratory in West Lafayette, Indiana for three years; and a scholarship that has yet to be awarded.
According to Sanders and Geddes, there is no GPA requirement for the summer research program. It is designed for first-year-students only and no major needs to be declared but according to Sanders it is recommended that students declare a major in earth science.
There are, however, a few more requirements for the internship program. According to the application, students must meet the following: be earth science majors, have a minimum GPA of 2.5, have completed ESCI 211 or 121 with a grade of C or better by May 2016 and have completed a college-level chemistry course with a grade of C or better by May 2016.
"It's a great opportunity for students that, perhaps, are undecided to have hands-on experience on doing research in very contemporary issues, in particular about water issues," Geddes said. "It may help them decide what they may do later on. We accept any students that have an interest in these particular disciplines."
Sanders also spent spring break with USDA scientists as part of the NEIU/USDA Spring Immersion program. This program will also be available in 2017 and 2018.
"We fund four students to go to the lab in Indiana and spend their spring break week there, getting to know the lab and the researchers," Sanders said.
This could also help some students decide if they want to eventually apply for the summer internship.
Sanders highlighted some of the rewarding opportunities for the students participating with the AGUA project.
"They are presenting their work in a conference in California," she said. "They are building a network right now…they had in-depth interviews with scientists and technicians…they are ready to apply for whatever is next."