Boxing Club set to lace gloves for fall semester
Giovanni Monterroso, a fifth year biology major, has been leading the boxing club for the past few years. Though he doesn't have much boxing experience outside of the club, his love for the sport started like a lot of people.
"My grandfather use to love to watch boxing when I was at his house." said Monterosso. "I would watch it with him occasionally. I'm not much of a violent person, but I have a temper, so I felt like boxing was a great way to let my anger out."
The club, which sees 15-20 participants per semester, is designed to help members relieve stress and learn self defense. Students who have previous fighting experience participate in the class to brush up on their fighting techniques.
Though it's free to join and constant participation isn't required, Monterroso seeks donations for each semester from those in attendance.
"For the club we ask for a $20.00 donation to help buy more equipment. Most of these bags are pretty old. We try to get a small donation so we can buy a new piece of equipment every semester. Our gloves are all new, and are professional fighting 12 ounce gloves. We slowly buy stuff over time."
Though finances and a small location are a limitation for Monterroso, he's dedicated to find the best way to satisfy each student's personal needs. He structured each class into three parts. The first 15 minutes is designated to stretches and light jogging. For the bulk of the class he works on boxing techniques like hooks, uppercuts and defensive stance. The final few minutes are used to cool down the students through slow boxing movements and resistance band workouts. As the semester continues, the club gets more intense with its regimens.
Giovanni Monterroso is also working with a few specific students that could lead the class once he graduates this winter.
"We used  to have fights here. We had two fights that we did, in the fall of 2013 and fall of 2014. These were fighters from Northwestern, all around Chicago and students from NEIU who really wanted to fight" Monterosso said. "Hopefully someone would try to bring it back, because it's a really good way to expand people's knowledge of what the P.E. Complex gives to students."
One of the most important things that Monterroso wants people to get from the class is the family environment. All skill levels are welcomed to join.
The boxing club is slated to be in full effect by mid-September. The boxing club meets for class takes place every Tuesday, Thursday and Friday from 3 p.m. to 5 p.m at the P.E. complex at the racquetball courts.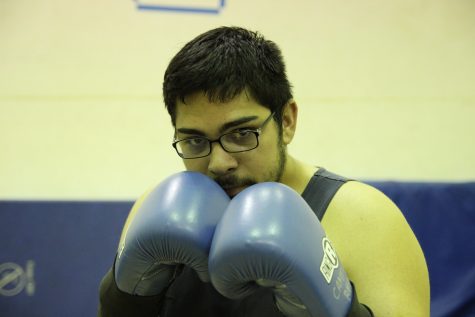 Giovanni Monterroso is ready to lead his final semester with the boxing club. 
Picture Courtesy of Spencer Jones 
View Comments (1)