Campus Housing Opens for the First Time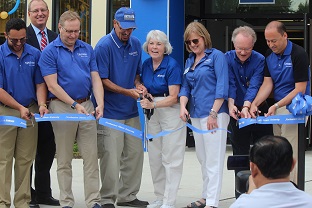 NEIU first-ever campus housing, The Nest, was completed during the summer and it is open for students to apply for, tour and live after its historical ribbon-cutting ceremony on Aug. 19.
The Nest can house 440 residents and in an article published on Aug. 10, President Sharon Hahs told the Chicago Tribune that approximately 200 students have signed leases this year.
Under the direction of Keith Cosentino and assistant Jo Peña, the building accommodates students looking to rent a room with one to three other students in two-bedroom or four-bedroom units, respectively. According to neiustudenthousing.com, rent installments are due on the first of August and December, maintenance and professional staff are available 24 hours a day, seven days a week.
Utilities are covered by the housing fee, with the exception being electricity, which is covered to a cap. Any electricity consumed beyond the cap is the responsibility of the resident involved. The building includes Wi-Fi hotspots and Internet in every apartment.
"To the left of the entrance is a red wall, which doubles as a whiteboard for students to use for study sessions and creative expression," Peña said.
In addition to the red wall, tables and desktop computers are accessible for group study and computer work. On the opposite side of the work area is an entertainment lounge, containing arcade cabinets, ping pong tables and LCD televisions for viewing.
"All TVs are hooked up to cable, which has around 140 channels, including HBO," Pena said.
Not only is the entertainment lounge an opportunity for residents to enjoy and relax, but public events, such as ping pong tournaments and video gaming sessions, are also a possibility for which students to get engaged.
"We do plan to hold public or private events in this area, which the residential assistants would be responsible for hosting," Peña said.
Near the entertainment lounge is a fully equipped fitness center with weights, treadmills, step training machines and open spaces for stretching.
Mail and package delivery is also available for students directing their mail to the Nest's address-3659 W. Bryn Mawr Ave.-with individual boxes for letters and small packages, while larger packages would be held by the front desk.
Another feature of the Nest is the team of eight student Residential Assistants: Martha Lopez-Salazar, Morelia Diaz, Larry Thigpen, Uriel Saldivar, Khalil Suleiman, Isabel Vargas, Adriana Mata and Oscar Lopez.
"It seems like we're going to be like a guardian away from home," Diaz said. "It's interesting to see how they're going to react to us and training prepares us for the worst situations ever that I didn't expect would happen here."
Residential assistants are trained to plan activities for students and to point out resources available on campus. These activities are supposed to serve as stress relieving  outlets for student residents.
"I think I'm going to expect some roommate conflicts, roommates are going to have issues with their rooms, and they'll just need to know the sense of the community not only in the Nest, but the main campus as well," Thigpen said. "It's important for us as R.A.'s to not only be patient with them, but also to guide them in the best possible way and to be a resource."
In addition to  their work and responsibilities, strong bonds between R.A.'s are also formed.
"It has been truly a blessing to be here, to be a part of this amazing team, and knowing that we'll be making a difference to the lives of incoming freshmen," Suleiman said. "We're here to give them a path that they can feel comfortable with, to report them to resources that they need to really be in touch with, so we can help them be the best person they can be."
The first-ever student housing complex to belong to NEIU is open and ready for that first day of school.
"I think it's going to be a positive experience for us and the residents because they'll be able to develop as a person and as a student," Vargas said. "I'm excited to work with this team because I think we'll be able to be that support system for each other, as well as for the residents."