Out in the Sundance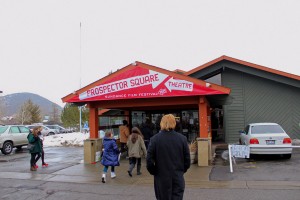 What could be better than spending a whole day just watching movies? This question, proposed by Stanford University student Carol Tan, ought to evoke a quick and simple response by film enthusiasts- "Nothing."  The 29th annual Sundance Film Festival took place in Salt Lake City, Ogden, Sundance Resort and Park City from Jan. 17 – 27. Sundance, which began in 1978, is now considered one of the largest and most important film festivals in the world. Independent filmmakers and movie-lovers from all around the world gathered for 11 days of film celebration.
Some greatest movies have premiered at Sundance: Hustle and Flow, Pi, and When We Were Kings, to name a few. This year, a number of films impressed the masses. "My favorites were Cutie and the Boxer, Blackfish, and We Are What We Are," Tan said on her second visit to the festival. "I didn't get to spend as much time in Park City as my first visit, so I was a little disappointed, only because there were so many cool-looking movies to be seen."
Park City is a lovely quaint city. Enjoy this magical atmosphere, surrounded by movie lovers, and with a little luck, you can bump shoulders with some celebrities! This was especially true during the first week of the festival, when most of the movie premieres took place.
A lot of famous people can be spotted just hanging around Park City. This year, for example, Ashton Kutcher showed up for the premiere of "jOBS."
Director and founder of the festival, Robert Redford, is present every year. The most important and prestigious part of the festival is the film awards. Winning in Sundance can be a pass into getting noticed worldwide. This year "Fruitvale" and "Blood Brothers" were the big winners. Both movies received U.S. Grand Jury Prize and Audience Award. "Fruitvale" won in the Dramatic and "Blood Brothers" in the Documentary category.
The most moving of the six films I was able to see was the documentary film "Life according to Sam." The film follows a kid with Progeria – an extremely rare genetic disease which, generally speaking, is causing kids to age very, very quickly. But it is not only a story about an illness, it is an amazing historical account of the parents who decide to not accept what everybody around them was telling them. They decide to fight and find a cure that would help their son. This is an amazing story of determination, love and courage. After the film, the audience was given the opportunity not only to speak with the director via Skype, the star of the documentary, Sam, was also present on a big-screen. Interaction with movie directors, actors and documentary film characters are one of the things that make film festivals so alluring!
The growing popularity of Sundance makes it very difficult to get tickets for screenings and this dilemma annually increases. So if you are not Roger Ebert or a famous director, get tickets in advance. Unfortunately, it won't be easy.
A raffle at http://www.sundance.org/festival/ rewards timeslots during which tickets can be purchased. But it is only permitted to enter the system once and when a timeslot is rewarded, winners have no more than 60 minutes to finalize a transaction.
Tickets to screenings sold out quickly. In addition to movie screenings, other events also took place. Panels and discussions, art exhibitions and special installations were open to the public. There were also live concerts at the Festivals Music Café. Many venues like Co-op temporarily housed sponsors that advertised their respective companies with free giveaways.
This year, free coffee, hot chocolate and cider was offered. Postcards could be filled out by attendees and sent anywhere in the world for free. Free hair style and makeup touchups, along with free cosmetics were offered by L'Oreal. The photo booth was a fun and popular stop, with hats, film clap and other accessories to don while taking funny pictures.