Wearing ROSE-Colored Glasses?
– [post-date] –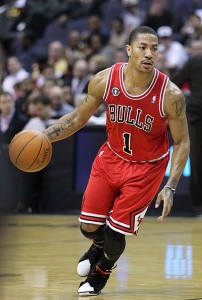 As Chicago Bulls fans anxiously wait for point guard Derrick Rose to return from a torn ACL, the Chicago Bulls and Head Coach Tom Thibodeau remain focused on what Thibodeau has preached since he came here in 2010: not looking ahead and for the players to "do their job."
The Bulls are quietly and impressively doing their job. As of Feb. 8, the Bulls are 29-19 and a game behind the Indiana Pacers in the Central Division, and are currently the fourth seed in the Eastern Conference.
Often maligned power forward Carlos Boozer is averaging 15.7 points and 9.6 rebounds per game, and center Joakim Noah (12.1 PPG, 11.3 RPG) and small forward Loul Deng (17.2 PPG, 6.7 RPG) are doing their best to keep the Bulls rolling until Rose returns. While all three have been superb for most of the season, the biggest surprise is coming from second year small forward Jimmy Butler.
Butler's stats (7.3 PPG, 3.6 RPG) may not seem like much to the average fan, but those who watch the games see the maturity of Butler's game. Butler's defense causes problems for the players he guards. Going into the offseason, Butler knew that if he wanted to get more minutes he would have to improve his offense, and his work is paying off. His jump shot and confidence are noticeably improved, but, more importantly, Thibodeau has gained confidence in him.
As the All-Star break approaches, the Bulls have concerns. Thibodeau has recently been criticized for playing his starters too much. Boozer (leg), Noah (foot) and Deng (hamstring) have all missed time, and critics point to the minutes they play. Boozer plays 31.8 minutes a game, Noah (38.6) and Deng (40.0). Boozer's minutes are not much of a concern because up until Jan. 30, Boozer had played in 123 consecutive games.
Noah's and Deng's minutes are more worrisome. With Butler becoming more acclimated to Thibodeau's system, expect him to be used more as the regular season progresses. As for Noah, Thibodeau does not have many options. Coming off the bench, power forward Taj Gibson (7.6 PPG, 5.5 RPG) plays solid defense, rebounds and scores a few points. However, at 6'9" Gibson is more of a power forward than a center.
The other option is journey man Nazr Mohammed (0.8 PPG, 1.7 RPG). The 36-year-old has not been given much of a chance and when he has,  it makes one wonder if he is a backup or a tour guide at the Field Museum.
The play at point guard has been what many thought it would be without Rose: average. The return of Kirk Hinrich (7.0 PPG, 5.2 assists per game) has not been as helpful as originally expected. Hinrich, who was originally drafted by the Bulls in 2003, has been battling injuries with the most recent one involving his elbow. Hinrich brings a team first mentality the court, which makes him a Thibodeau and fan favorite.
The other option at guard is Nate Robinson. Robinson (11.8 PPG, 4.0 APG) is the second smallest player in the NBA at 5'9". Robinson, who has won the dunk contest twice, brings athleticism and energy to the Bulls. He can make shots in bunches—sometimes even circus shots. Other times he takes shots that make fans wonder why he's not in the circus.
Shooting guard remains a concern. Richard "Rip" Hamilton (11.1 PPG, 2.4 APG) was brought in last year to be the last piece to guide the Bulls to winning an NBA title. Unfortunately, Hamilton has been anything but. He has been unable to stay on the court consistently and is arguably, besides Boozer, Bulls fans' favorite whipping boy. The Bulls are hoping that Hamilton will be an asset come playoff time, but Bulls fans have gotten too used to the sight of Hamilton walking off the court grimacing.
Derrick Rose makes the Bulls significantly better. Fans know that, other teams know that and the Bulls know that. The Bulls are also aware that in order to win an NBA title, two superstars are required. Assuming Rose eventually gets back to his old self, they have only one superstar. It has been said before that the Bulls will be a great regular season team, but until they get that second superstar to complement Rose, the Bulls will be second behind the Miami Heat. The Heat has the big three in LeBron James, Dewayne Wade and Chris Bosh. The Bulls? They have Rose and nice players to back him up.
The Bulls are a very good team with a very good coach, but contrary to the die-hard fans, they still are not on the level on the Heat, even with a healthy Rose penetrating the lane. Here's to hoping these are the wrong glasses.