Glamour is the New Black
José Rivera's New Play Tells Stories of Female Prisoners
More stories from Mary Kroeck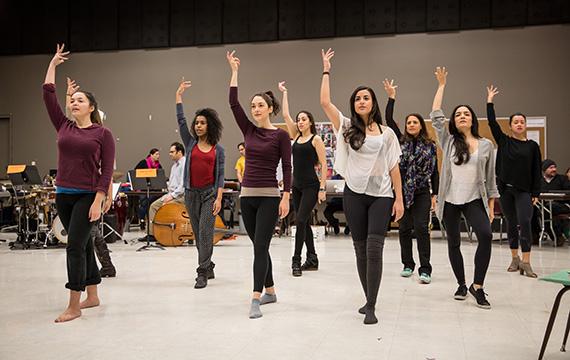 In the women's prison of El Buen Pastor in Bogotá, Colombia, something rather unusual takes place. For one day each year, jail clothes are replaced with pageant gowns, a typically bleak courtyard becomes a stage and prisoners who may have been at odds come together to strut their stuff for a chance to be something they might not have had the opportunity to be outside of the prison – a beauty queen.
Academy Award nominated screenwriter and Obie Award winning playwright José Rivera along with director Steve Cosson witnessed the competition for "Señorita Simpatía," El Buen Pastor's annual beauty pageant honoring the Virgin of Mercy. What they saw and the interviews they conducted with prisoners became "Another Word for Beauty," a world premiere play opening at the Goodman Theatre on Jan. 25. The show also features music by Grammy Award winner Héctor Buitrago.
The largely Latina cast features Stephanie Andrea Barron, who is making her Goodman Theatre debut in this show as Yolanda, the youngest woman in the pageant.  
"I think that this play tackles a lot of issues that are overlooked," said Barron, "I think Steve and José have really put together a very focused way of looking at the prison. …[With] each of the women [the audience gets] to look at all of the different circumstances that they're in and all of the stories they have and each one is very different. We have people who have fought in the war [in Colombia] on both sides, women who have just taken some wrong turns, women that have gotten caught up in drugs and it's all these political and social issues that people don't think about."
The characters in the show are based on real inmates in the prison, which presents a unique opportunity for the actors.  
"This is probably the first show that I've ever done that's based on a real-life situation," said Barron. "I feel like I have a responsibility of telling the story and [to] really live it because it's real. It's not make-believe. It makes it harder to do sometimes. It's a very dark, emotional place you have to go to…but because it's real and because this is stuff that's still happening and Colombia is in this dark place right now, it awakens you."
Yunuen Pardo plays Jeimi, a woman imprisoned for being a drug mule and stealing cars for narcos (drug dealers). Though the character is rooted in facts, Jeimi is the most fictitious, a combination of different people. Pardo feels the reality the show is based on changes her approach.  
"It is very different," said Pardo. "What changes for me in this case is knowing that I have to be present and alive with the other actresses that are actually representing these women makes it so much more real for me. Their stories and their words hit me in a much deeper way."
Pardo admits she also understands the appeal of pageants as a way to teach inmates socioemotional and professional skills, as they have to work together designing costumes and floats for the event.
"I did a couple of pageants when I was younger," said Pardo. "Though it sounds so superficial, these more profound things do happen because you're put in such a vulnerable moment and all this responsibility of being beautiful or all these stereotypes that you have to try live up to you [make you] start realizing what you as a women can actually give. …Many people think [the pageant in El Buen Pastor is] unnecessary and what not and it's just for them to go through the year and forget about them being in jail, but I think they do learn how to feel better about themselves and how to find some strength within their roots."
Dramaturge Neena Ardent explained the show encapsulates part of the mission of the Goodman Theatre as well as presents a story that many can relate to.
"Part of our programmatic goals at the Goodman is to tell the stories of people who might not have their stories told most of the time," said Ardent. "These are women who are kind of shut away. So making sure that we're doing justice to those stories and telling them in a way that does justice to those women is certainly a challenge. …On the one hand it takes place in a very foreign culture. On the other hand, all the themes it deals with are of course very universal."    
"Another Word for Beauty" runs Jan. 25 – Feb. 21 at the Goodman Theatre, 170 N. Dearborn. Student tickets are $10 with promo code 10TIX and a valid student ID. Visit GoodmanTheatre.org for more information about tickets and upcoming special events.
Leave a Comment