A Golden Donor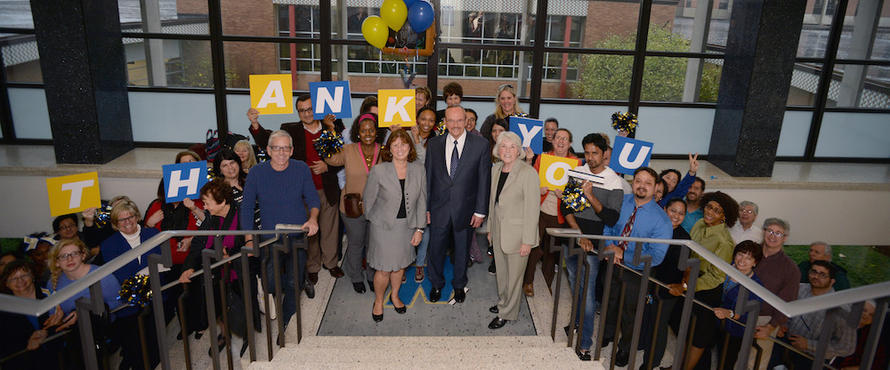 NEIU's college of education will be named after Daniel L. Goodwin, an alumnus of NEIU, for his philanthropic support and leadership. It is the first time in the school's 148-year history that a college will be named after an alumnus and donor.
The Daniel L. Goodwin College of Education will be dedicated during a ceremony and fundraising event in January 2016.
"I am greatly honored that Northeastern Illinois University will name its College of Education after me," Goodwin said in an Oct. 21 press release. "This challenge is an opportunity to honor my core values in partnership with a university that has been an important part of my own life and a symbol of hope, success and excellence for families in Chicago and beyond."
Goodwin granted the NEIU Foundation $1 million in December of 2014 and promised to match up to an additional $1.5 million over the next three years as part of his Goodwin Gift Challenge.
"This is a transformative moment in the University's history," said NEIU President Sharon Hahs in an Oct. 21 press release. "The University is growing to meet the demand for diverse, civic-minded citizens and thought leaders. Mr. Goodwin's generous commitment will expand our capacity to meet this need."
The Goodwin Gift Challenge, which begins January 1, 2016 and culminates in 2018, is a challenge to other alumni and friends to contribute to the NEIU Foundation. Goodwin will match any donation up to a total of $500,000 annually. Donors must indicate that they wish to participate in the challenge for their donations to be matched.
According to the Oct. 21 press release, Goodwin's contributions will be divided three ways: The Daniel L. Goodwin College of Education Scholarship Fund to benefit undergraduate and graduate students; the Daniel L. Goodwin Dean's Program Fund to purchase teaching materials and other resources, support faculty development, establish graduate fellowships and graduate assistantships, and to enhance the Daniel L. Goodwin College of Education's programs; and to establish the Daniel L. Goodwin Distinguished Lecture Series Fund to provide funds to hire well-respected individuals to deliver instruction in conferences, seminars and major lectures.
"This remarkable gift is an investment in our ability to provide a reflective, collaborative and transformative education for our diverse student body," said Daniel L. Goodwin College of Education Dean Maureen Gillette in an Oct. 21 press release. "Mr. Goodwin's generosity will have a lasting impact on our students and the communities we serve."
As well as being the first person with an NEIU college named after him, Goodwin was also part of other firsts at NEIU: The first freshman class; the first president of student government; the first alumnus to receive an honorary doctorate; the first and only alumnus to serve on the Board of Governors of Illinois State Colleges and Universities; the first to contribute a multi-million dollar gift to the university; and the first chairman of the Board of Trustees.
"Today, we measure the success of this challenge in dollars and cents," Goodwin said in an Oct. 21 press release. "In one or two decades, we will measure this challenge in the number of lives transformed."
Goodwin is the Chairman and CEO of The Inland Real Estate Group of Companies, Inc., one of the nation's largest commercial real estate and finance groups. His wife, Carol Goodwin, is also an alumna of NEIU.
Leave a Comment