Thursday Night Live: Halloween Edition
In a spot lit corner of the Student Union, bands projected their unique and trembling sounds through the halls and through WZRD's airwaves.
Thursday Night Live displayed the talents of the _Eye, glitch and breakcore artist; Panq Ng, a progressive hardcore band of many musical influences; and Fat Kid, the final act to the night of spooks and jams.
Tooth_Eye, whose given name is Christopher Will, was equipped only with a mini DJ set and a laptop, but good things come in small packages. Tooth_Eye dispersed remixes of sound bites and dissonant music to display the unsettling yet entrancing nature of breakcore.  Breakcore is a style of electronic dance music influenced by hardcore, jungle and industrial music known for its use of heavy kick drums played at high tempos.
During his performance, pop music, news media sound bites, chiptune samples and white noise transitioning into each other, with sudden and seamless changes.
"Whenever I perform live, I'm jamming out to most of the stuff," Tooth_Eye said. "I have particular things that I think about doing when I perform, like certain tricks, but it's not a very conscious thing: it's like live editing."
Though his live performances date back to 2009, Tooth_Eye's appreciation of the genre began in 2000. He started to build his presence as Tooth_Eye in 2005.
After Tooth_Eye's performance, Panq Ng, pronounced "Pank – ang" began setting up, clad in humorous and admirable costumes.
Drummer Lucas Black performed in a baby blue Hornets cheerleading costume and wig, sans pom-poms; bassist Sam Fike laid the low notes in a green witch outfit, complete with a long paper nose and one pink stocking; keyboardist Brandon Reichman tapped into his Jesus Christ look with a tan robe and red sash, along with image perfect beard and long hair; and guitarist Greg Conrad rocked out with his ode to the Brawny Towel Man, complete with red flannel and jeans.
The band played intense songs from their material. One song perfectly detailing their quirky songwriting was titled 'Apple Sharks', displaying raw and sharp vocals from Black, as the bass pounded to a waltz rhythm.
Upon hearing their setlist, it was difficult to pinpoint a specific genre of music, but in a good way. The band showed versatility in the style and expression of each song, while staying consistent in their characteristic sound. Aspects of progressive, punk, hard and psychedelic rock were prevalent in their music, showing strength in their complex rhythms.
Panq Ng gave a lovably cheesy and charming mention of how they created their band name.
"We all had the same dream collectively, and someone came to us upon a flaming pie and said 'You shall be called Panq Ng,' and the name stuck," Fike said. "Funny enough, this was during our three year hiatus, and it brought us all back together."
After finishing their performance with drum bashes and guitar kerrangs, Fat Kid performed the final act of Thursday Night Live's event. Fat Kid plays a mix of punk and ska, with great fluctuation on tight rhythm and loose growling metal. The members of Fat Kid include bassist Doctor Z, guitarist Big Snore, vocalist Qlondorp the Great, and drummer Vladimir Exodus Bizmark III.
During each band switch, some WZRD DJs partook in a radio play called "Vinyl of the Dead": five vignettes, connected by ominous vinyls, written by one lone wizard. The remarkable humor of the passages derives from brilliantly written scenarios, such as a musically biased talking mold that aspires to be a disc jockey for the station, and a perplexing conversation between an anthropomorphic horse and a country man.
From beginning to end, WZRD and the bands captured the true terror of Halloween, while expressing the jolly fun and insanity of their acts.
Leave a Comment
About the Contributor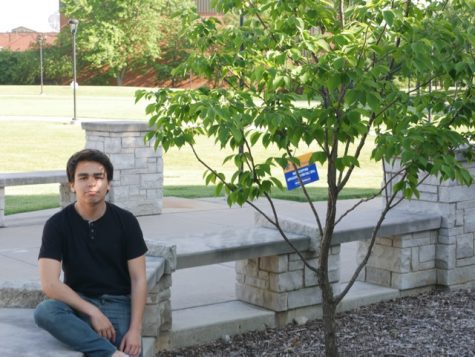 Pablo Medina, Editor