LET'S GO GOLDIE LET'S GO
Change is something that is necessary to grow and become stronger.
"I am so excited," said Director of Student Leadership Development (SLD) Veronica Rodriguez. "This has been my dream for a couple of years. We already have the new shirt for the year in Goldie's size."
This fall, NEIU will take a different approach towards change. Along with a website revamp and the new El Centro campus, the latest makeover will be to NEIU's mascot, Goldie the Golden Eagle.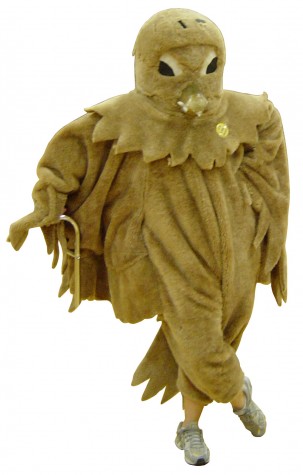 "It's a fun image that brings school spirit and tradition and that's something that a lot of students have said that they think is needed here," Rodriguez said. "I think mascots can just be something that you rally around."
There are approximately 20 renditions of Goldie the mascot including the original Golden Eagle. Fun choices include but are not limited to Pirate Goldie, Mardi Gras Goldie (complete with beads and masquerade) and Star Trooper Goldie.
"Goldie is a golden eagle and as far back as I've looked, that's been our mascot since at least the '70s," Rodriguez said. "Students stay at a place that they enjoy, that they feel welcome, that they feel engaged at and that is one of the pieces that we can help contribute to the overall picture."
When it comes to the history of college sports, NEIU does hold one. The NEIU sports program joined the National Collegiate Athletic Association (NCAA) in 1988 but shut down its athletic program
Today, NEIU does not offer an intercollegiate athletic program but does offer intramural sports played by the clubs of the university. The P.E. Complex extends benefits to students when in use such as fitness classes, a climbing wall, racquetball court and swimming lessons at reduced rates.
"We've been really trying to implement 'Golden' into everything," said Rodriguez. "Students that come here are going to have friends at U of I, or DePaul or at Loyola. We want our students to be able to have just as much of a traditional college experience as their friends are at other places."
She continued, "Northeastern is currently unique at being a commuter school but that doesn't mean that our students deserve any less of those experiences."
The question that now remains: Who will be the person donning the new Goldie costume?
The SLD held auditions on August 13 and 14 looking for finalists. There will be no one performer, since students have classes and schedules to juggle. Candidates must be over 5'3" and anonymity is the name of the game. Rodriguez and a panel of various leaders within the school will be the judges of tryouts.
Promoting school spirit may just tie into the soon-to-be student housing currently under construction on the parking lot located between lots F and H.
"We're going to have students that are here, on campus and it's not like they're living some place several blocks away," Rodriguez said. "They're going to be smack-dab in the middle of campus. That's exciting because it'll give opportunities for us to create programs and events that people are at because they're not going to be rushing home."
The new Goldie costume should be complete by the time this issue goes to print. Faculty and staff will be able to meet Goldie on Thursday, August 20 and the mascot's go-live date to meet students is Friday, August 21.
"At this point our goal is to get Goldie to as many different events as possible," Rodriguez said. "We want there to be this kind of pop-up aspect. You never know where Goldie's going to show up, you never know where you're going to see him."
Student organizations and clubs can request for Goldie to come to their event via an online form.
"I think that it's good to have those times that can be fun and uniting," said Rodriguez.
For future reference, Goldie wears a size 3XL t-shirt.