Letter From Andalucía — Spain Trip 2015
Somewhere deep in the ancient, winding streets of Seville, 21 Americans stumble from café to supermercado to landmark to Universidad. They struggle on the long path to enlightenment or on the even longer path to the next bar. They slave into notebooks under the dull heat of the night or the blazing sun of the 18-hour day. Sevillanos, an overwhelmingly cold and eagle-eyed people who are better at looking through you than at you, strut about their city.
From our humble abode, a pastel yellow apartment building at 22 Gravina, the city looks ancient and magical. And ancient it is. Seville has existed in one form or another for some 3,000 years, according to myth, was founded by Hercules, and was an important center of trade for at least five countries and empires. And Seville keeps this ancient magical aspect alive until one approaches the suburbs and the exurbs of the city where Spain's dim economy begins to show through, and decaying 20th Century high-rises and tired commuters dominate the landscape.
Seville faces a strange and uncertain future. Tourism is a major industry here — especially in the older parts of the city, where some 3,000 years of ruins can be found in various degrees of preservation. The Roman ruins are mostly gone, and those that remain are preserved under glass. Original Islamic buildings and architecture can be found in some of the oldest parts of the city, such as the Barrio of Santa Cruz and the Jewish District (though now mostly absent of Jewish folk), but the style is most intact in the Cathedral of Seville, which was, a very long time ago, a Mosque.
It is the Catholic heritage that is most well preserved here, because in many respects, it is still the order of the day. But as far as architecture, culture and food go, almost all of Andalucía (the name itself derived from the Arabic name al-Andalus) is a strange and somewhat unconscious mix of Islamic and Christian culture.
Our small party, under the direction of history professor Dr. Mateo Farzaneh, has ventured to three cities: Seville acts as our home base and the center of the trip. We journeyed to Córdoba, with its narrow winding streets full of pickpockets and its majestic Mosque turned Cathedral. There are many in Spain, though few are as magnificent as those of Córdoba and Seville. The port city of Málaga is another one of our destinations, with its sunny beaches, good seafood, decaying infrastructure and cool Mediterranean breeze.
And finally there is Granada, with the immense and immaculate fortress of Alhambra — a spectacle of science and geometry — and endless gold and green and red mountains looking like SoCal on steroids.
By the time this article goes to print, the majority of our party will also have visited the coastal city of Cádiz…and others will have ventured to cities far off in the north of Seville, like Barcelona and Valencia, or to other countries including Lithuania, Italy and France.
So it has so far been quite an adventure. We've gotten lost in the twisting alleys of the Barrio of Santa Cruz, struggled to learn the geography of Seville, found weird shortcuts and even stranger food. After 7:30 p.m., a good portion of our group takes over a small restaurant down the street called "Don Kebab" and then struggles back to the Terrace to eat it in a vicious mess of chicken fries and beef.
You'll walk through the shopping district to get to the Cathedral — or skip that overpopulated mess and walk down Gravina until it turns into Zaragoza and spits you out on a street full of restaurants. On a good night you'll end up in the right place. On a bad night you'll find yourself coughing out some of the cafeteria food, which is a hit or miss selection and a gamble regardless of the food they serve. But it is free — or at least — already paid for.
Other times you'll go to some of the restaurants around. Maybe a hole in the wall for breakfast with 70-cent cervezas, or maybe one of the tourist-aimed places that looks local but charges obscene amounts for a small portion of calamari. If  you're observant, you'll avoid these places.
But this letter must come to an end, so greetings from Spain. We all wish the Summer Semester folks the best of luck…and we'll see you all soon.
Hasta Pronto,
Steven Villa
Leave a Comment
About the Contributor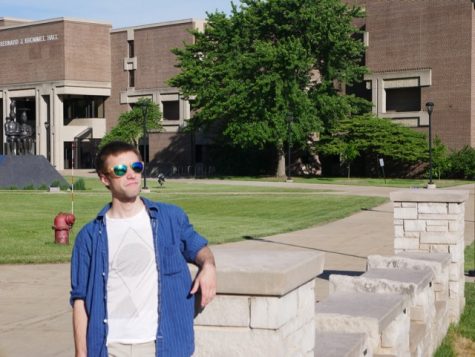 Steven Villa, News Editor