Psychedelic Gumbo: Musical Transmissions from a Voodoo Witch-Doctor in the Age of Aquarius
A review of Dr. John, the Night Tripper's album, Gris-Gris (1968, ATCO Records)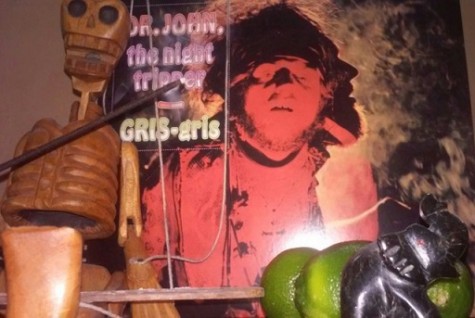 So, the story goes down a bit like this. Mac Rebennack cut his teeth as a session guitarist during the late '50s in "N'awlins" (New Orleans for the totally cubistic of y'all).
A gunfight broke out at a show and he nearly got his ring finger blown off trying to save his piano player. He concentrated more on the bass guitar and piano and then he headed west to kick some drug thang and relax in the California sun. Soon after, he got the idea to record an album and have it fronted by this cat named Dr. John, the night tripper, who is based on a 19th Century Louisiana medicine man.
So in 1967, he brings out all these funky second line zombie Zulus from way back home and then lays down this thing called "Gris-Gris" for ATCO records. Gris-Gris, for the uninformed, is a little bag of talismans that could be used for the purposes of good or evil. And to procure such powers you must head directly to the Gris-Gris man and get some potions that can cure or cause every affliction.
Now I know all of you are stupefied in cosmic awe but you still want to know "How does it sound, man?" Well grab your shovel so you can dig what I'm saying. The album opens with "Gris-Gris Gumbo Ya Ya," a down-tempo loose and funky repeating riff. We know now that the doctor is in because he introduces himself in a scratchy whisper and like a snake he hisses all the potions and powders he is offering us. From here we start to get a taste of what we're in for.
Then tracks like "Danse Kalinda da Boom" or "Croker Courtbullion" dance around frantically like a shamanistic voodoo gypsy making rain. "Mama-roux" is a light up-tempo song that foreshadows his 1970s commercial successes (i.e. "In the Right Place") but it doesn't feel out of place among the more swampy psychedelic pieces.
Throughout the whole album he tosses in French Creole words and voodoo references while the rhythm section lays a down a funky back beat. The vocals, guitars and mandolins fade in and out and you are drenched in music as it meanders around like incense. The whole thing closes with one the coolest songs in the history of cool songs, "I Walk on Gilded Splinters."
This album really seems to incorporate a whole range of culture and styles and yet still sound like it's from New Orleans. There is never the impression that this is New Orleans music for New Orleans' sake. It is more of a gumbo, and you just throw everything in the pot that is around you.
Buy it, steal it, or burn it, whatever, just do yourself a favor and listen to this album. You are welcome.