Rita Moreno Gives Inspiring Words at Spring Commencement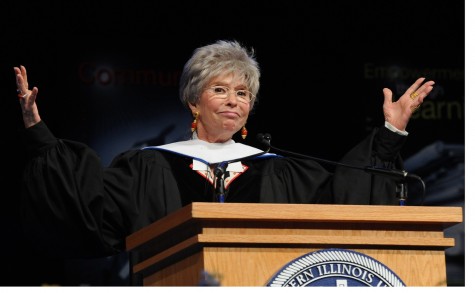 Graduation ceremonies are dull. They are often long, clichéd, and predictable. While you are proud of whomever you're there to see get their diploma and celebrate their accomplishments, the ceremony itself is often tedious. Which is why it helps to have a commencement speaker like Rita Moreno, whose witty charm livened up the UIC Pavilion at the 2015 NEIU Commencement Ceremony.
The triple threat actress, who has won two Emmy's, a Grammy, an Oscar, and a Tony, was chosen to give the commencement address to the 2015 graduating class.
One of the most decorated entertainers and beloved by different generations she brought her signature sense of humor and charm; after receiving her honorary doctorate she said to president Sharon Hahs, "Take two aspirin and call me in the morning."
She then looked out at the graduates and said, "It took me just two minutes to get a doctorate and most of you, at least four years. Lesson number one: life is not fair."
That sense of humor carried throughout her speech, even as she gave serious advice about life after graduation and the importance of perseverance and determination.
Moreno cited many famous people who made drastic career changes. Harrison Ford was a roof carpenter before playing Han Solo, Julia Childs was a CIA spy before becoming a TV chef and her favorite, was fired from his position as a newspaper editor because he "lacked imagination and he didn't have good ideas; that was Walt Disney."
"It is so easy to get lost in the wilderness of career," she said. "The day you graduate, you do not arrive. This is not the end. This is the beginning for you. To graduate is to change gradually."
"So don't feel guilty for one second if you have not figured your life out just yet, you just keep on graduating," she said. "[It is so easy] to be defined by what you do rather than what you are."
Moreno cited her own life experience. Even though she is one of the most celebrated entertainers in the industry, she has still suffered from setbacks.
At age 60, Moreno had not filmed a movie in nearly a decade and was so excited when her agent said a major director wanted to see her for his next film. Moreno spent weeks going over the script, until she was convinced she knew the role. But when she walked in for the audition, the director told her he wanted her for a different role, the role of a Mexican madam in a brothel, with two lines of dialogue. It was the most humiliating moment of Moreno's life.
"From my childhood, I knew what I wanted to do," she said. "But it's taken a lot of living to know who I am."
The administration wanted a speaker who best represented the values and the diversity of the student body. At an earlier press conference Provost Richard Helldobler said, "Rita is a perfect fit for NEIU."
"When asked to be the commencement speaker, I could not possibly say no," said Moreno at the same press conference. "Education is everything, you need a skill, the capacity to do something else. And this is coming from someone who never finished high school."
Moreno ended her passionate and encouraging speech with advice that everyone in the audience, not just the graduates, could walk away with.
"Don't ever, ever let anyone interfere with your dream or your focus or your vision," she said. "It belongs to you."