Trevor Noah and the Case of The Troublesome Tweets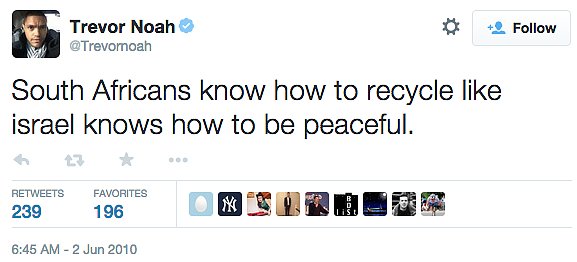 As an employee, I am the worst. I rarely show up for my scheduled shift. When I do, I'm usually either hours early or hours late. I take the #boredatwork selfie like a champ with the audacity to tag my job. I would have fired me two years ago. Instead, I got not only a raise, but a promotion. Why?  Because I'm really, really good at my job.
Performance based jobs are rare. Trevor Noah knows this struggle. His job is entirely performance based. And yeah, it's definitely a job.
Mr. Noah is slated to take over for host Jon Stewart on The Daily Show eventually. Comedy Central announced this at the end of March without giving any definite dates. Less than 24 hours after the announcement, the media aired all of Mr. Noah's dirty Twitter laundry.
The 30-something comedian's six-year-old tweets have been deemed racist, sexist, anti-Semitic and even not funny. Honestly, who cares?
Really, who would be hurt to let an anti-Semitic, racist, sexist, not funny man host a television show? Comedy Central, owned by Viacom, is essentially a private company, run by a few individuals for the profit of those few individuals. No one should be turning on Comedy Central for an unbiased news report.
As Americans we afford many companies the rights of corporate personage, in essence meaning that the corporation has some of the same basic rights as people. So let that corporation hire who it wants. If Viacom has no issue with Trevor Noah, then I as a fan certainly don't.
Trevor Noah as a comedian is hilarious. I've watched his sets and specials and read his tweets and as a "mixed kid", a person both of color and Jewish heritage, I am not offended. I am amused. He pokes fun at just about everyone from the KKK to starving kids in Africa. I'm sure if there's a group he's missed, they only need to write him a tweet and he will accommodate.
Usually when you leave a job, on whatever terms, you do not so heartily endorse your replacement. If Jon Stewart is going to set his DVR after 17 years to finally record his own show, then the media can certainly lighten up. It's not Barney, and it's not Fox News. It's Comedy Central, the network that brought you South Park and The Roast of Justin Bieber.
Leave a Comment