Lights Out For Smokers
NEIU's community of smokers will find themselves quite literally pushed onto the sidewalk come fall 2015.
Beginning July 1, Northeastern will implement the 2014 Smoke Free Campus Act, signed in Springfield last July to, according to the bill, "reduce secondhand smoke exposure among nonsmokers as well as prepare students for the workplace and ensure a healthy environment for all campus communities."
The bill only affects public state universities — or "state-supported institutions," as it refers to them — and covers "The University of Illinois, Southern Illinois University, Chicago State University, Eastern Illinois University, Governors State University, Illinois State University, Northeastern Illinois University, Northern Illinois University, Western Illinois University, and the public community colleges subject to the Public Community College Act."
"Smoking is going to be outlawed across the board on campus," said Sergeant John Schulz of the NEIU police. "Once this law goes into effect, and there's no smoking at all on any part of the campus, people are going to have to walk out onto the public way to smoke."
The public way available to smokers will include both the inner and outer sidewalks of Bryn Mawr, Saint Louis and Foster avenues, but will not include the campus lawn, gardens or fields. The parking lot, as a part of campus property, will also be regulated — the bill prohibits smoking in cars, even with the windows up. However the thoroughfare connecting Foster and Bryn Mawr is not included.
"The access road is still open to the public," said Schulz. "It's a public road that goes through, so we're not going to be stopping people because we see them smoking… while they're driving."
The act is far-reaching, banning any use of lighted tobacco — or any other smoking substance — on campus. It defines smoking as "the carrying, smoking, burning, inhaling, or exhaling of any kind of lighted pipe, cigar, cigarette, hookah, marijuana, herbs, or other lighted smoking equipment."
While the bill does not directly state electronic cigarettes (E-Cigarettes) are included in the ban, it includes provisions for any nicotine-delivering product not approved by the Food and Drug Administration (FDA) to aid smokers and nicotine addicts in quitting. E-Cigarettes have, to-date, not been approved by the FDA for such purposes.
Regarding repercussions for smoking on campus, campus police intend to treat the situation fairly lightly; they'd rather warn and educate students, faculty and visitors about the act than pursue more punitive measures.
"Here on this campus, right now, we feel that voluntary compliance is going to work," Schulz said. "It's going to take some education for people to realize 'oh, we can't even smoke here anymore?'"
Schulz said that an infrastructure for fines has not yet been established.
Among the students of NEIU, the reception of the bill differs wildly between smokers and non-smokers.
"I don't know if they should ban it. I mean, they could maybe make it further away, like, instead of fifteen make it like thirty feet," said George Nikolau, a student and smoker attending NEIU. "They could get stricter as far as getting tickets, but personally I believe that — I mean — so many people smoke…I don't know if that would be the right step toward it."
Nikolau mentioned, however, that he would probably not smoke around the campus at all when the bill goes into effect.
Another student, Erene Michalas-Sanchez was supportive of the bill. "I'm excited about it," she said, "because there's a lot of, I don't know — you come out of buildings and, right there, because there's a little overhang people think they can smoke there and it's disgusting."
"We don't want to be the smoking police," Schulz said. "We're not here to arrest people for smoking, or give citations or make anybody's life miserable. We just want people to comply and realize, 'hey, smoking's been banned from the entire campus for health reasons.'"
View Comments(1)
About the Contributors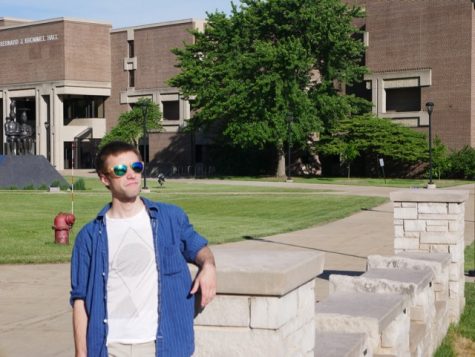 Steven Villa, News Editor