From SEEDS to Trees: The New Edition of SEEDS Journal
Experienced writers and aspiring story-tellers, members of SEEDS, faculty and students, stimulated the imagination of the audience in the presentation of the Fall 2014 edition of SEEDS. From the Fishbowl, SU 003, short fiction, memoir and poetry reached the members of the audience and invoked laughter and applause.
With coffee, pizza and chocolate in hand, the people listened first to the work of NEIU professor Bradley Greenburg, who shared the story of brothers in the city of Seymour, OH in the 1850s, and the impact of the locomotive to the city and its denizens. According to Greenburg, the reading came straight from a work in progress collection that he is building up in the coming months.
Following Greenberg was Larry O'Dean, also an NEIU professor and a contemporary poet and writer who bases works on pop culture and awareness of such culture. O'Dean's first performance involved Jewel poetry – that is, poetry about the experience of shopping at Jewel. His almost obsessive descriptions of the most menial of observations roused chuckles and guffaws from the audience.
O'Dean continued his readings with other poetic works, including, "The Dream," which included an image of ambulances, Roger Ghandi (in his words, "mind you, not Mahatma Gandhi,") and the idea of living in the moment; and "Frequently Asked Frequently Asked Questions," in which O'Dean lists off unusual, yet common questions of human culture, such as "Why does it hurt when I pee?"
Writer Elbert Tavon Briggs followed O'Dean, presenting his poem "Between Earth and Bronzeville," which contained the thoughts and visuals of a flourishing city and the personality of its inhabitants. Briggs, a native of Arizona, shared his life experience in writing professionally, having first picked up the pen during his years in the United States Army.
He noted, at one point, writing an editorial for the newspaper, which caught the attention of his editors: "They catch my piece and say, 'We want to put it on the Denver Post.' As soon as I heard that, I thought, 'Wow, I never knew my writing really reached out to a lot of people.'"
Briggs expressed that most of his inspiration and passion came from life experiences, and his family and friends played an immense role in his writing. Briggs also said that his writing improved from learning to write for oneself, as his high school mentor had once told him: "He said to me once, 'You know, young vato (dude), I see your writing and it is very unique and expressive. Keep a journal, and your writing will flourish greatly.'"
One of the last presentations was by Nick Pecucci, an English major at Northeastern, who shared a story inspired by continuous fascination with baseball, especially with Paul Konerko of the Chicago White Sox, titled "Paulie."
His second-to-second detail of a teen sitting in Wrigley Field viewing and bonding with the baseball match gained a heartfelt response from the audience.
Pecucci shared his feelings about attending the SEEDS event for the first time, having been interested in writing from his English 203 class last year. Pecucci expressed desire first when he managed a baseball card blog.
Pecucci expressed a desire to write new, musically influenced, works—pieces about, as he said, how 'music guides us."
When the launch party had concluded, the authors and audience joined in the praising of the presenters, sharing laughter and praise for the contributions to the new edition for SEEDS.
Leave a Comment
About the Contributor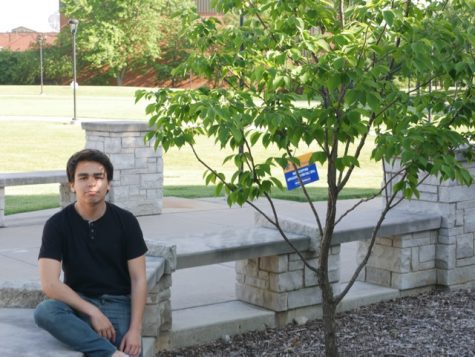 Pablo Medina, Editor