Flogging Molly Rocks the Aragon
–  [post-date] –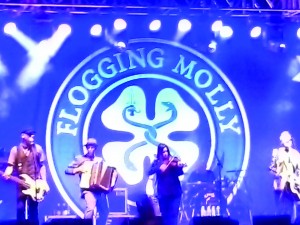 Fans of the Irish Rock scene have certainly heard of Flogging Molly. The seven-piece Irish Rock band out of Los Angeles has been touring since 1997 and has made major appearances across the world, including various late night television shows, Lollapalooza and their current, 9th annual, Green 17 Tour.
The Green 17 Tour comes to Chicago every year right between the end of January and the middle of March. On Jan. 26, Flogging Molly once again dismantled the walls of the Aragon Ballroom.
This year, Flogging Molly brought along two opening acts. The first, Dave Hause, is one man alone with his guitar. A very talented guitar player and vocalist, Hause's styles and songs are reminiscent of Rise Against, but he looked and felt very alone on stage. There wasn't a single song of his that would not have benefitted greatly from a solid bass line or rousing drum fill.
The other group along on the tour was Skinny Lister. This five-piece band out of London showed up and rocked some faces off with their Old English take on classic Bluegrass. Imagine four super-skinny British guys in tight jeans, flannel shirts and wife beaters, and one frisky looking girl in a sundress. Now give those guys an accordion, a standing bass, an acoustic guitar or a mandolin, and give the girl some silly dance moves and a huge XXX jug of alcohol and we've got quite the show. No drum set? No problem. These guys were a ton of fun and got the crowd very riled up for the main event.
One thing that never ceases to impress about Flogging Molly is their dedication to their hits while still providing a variety of songs from each of their albums. All five of their studio albums, Swagger (2000), Drunken Lullabies (2002), Within a Mile of Home (2004), Float (2008) and Speed of Darkness (2011), were well represented during the show, including songs that the band hasn't played in many years.
The group has their concerts down to a formula: come out swinging hard and fast, ease off with a few acoustic songs and then close harder and faster before the encore. The biggest gamble is which of their hits they will open or close the set with, and then rush to count which ones are left during the encore. Fans are guaranteed a happy dose of "Drunken Lullabies," "Seven Deadly Sins," "Salty Dog," and "If I Ever Leave This World Alive," and there will never be a complaint heard about any of them.
In true classic Flogging Molly fashion, after their encore was complete and the crowd was still cheering, Monty Python's "Always Look on the Bright Side of Life" came on over the speakers. The band sang and danced with each other as they shook hands and met people who stayed for autographs. Across the main floor fans could be found dancing, singing and whistling as they headed toward the exits.