Gangster Squad Nothing More than Untouchables Rip-Off
2 1/2 stars
–  [post-date] –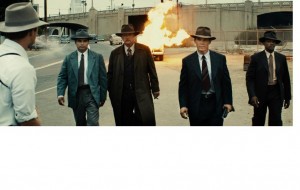 Moviegoers in search of something purely for its entertainment value need look no further; Gangster Squad certainly didn't. While this film has all of the gun-blazing, face-beating  and fancy suit-wearing that makes every gangster genre film at least somewhat enjoyable, Director Ruben Fleischer's Gangster Squad provides little else for its audience to enjoy.
Matt Brunson of Creative Loafing said it perfectly, "This movie claims to "be based on a true story" but turns out to be as authentic as The Flintstones in Viva Rock Vegas."
The film takes place in 1949 Los Angeles during the rise of famed mobster Mickey Cohen (Sean Penn). The plot centers on Cohen's swift and violent takeover of Los Angeles while a group of incorruptible cops, led by Sergeant John O'Mara (Josh Brolin), attempts to dismantle Cohen's organization and drive him out of the city.
Audience members seeking more from their movie-going experience than base levels of entertainment will be pleased with this film for one reason: Sean Penn. Penn's portrayal of a malicious crime lord encapsulates and thrills every time he appears on screen. Penn manages to act his way around a belligerent script and come across as disturbing and cruel as Mickey Cohen was in real life.
The same cannot be said, unfortunately, for the rest of the cast. Josh Brolin is weighed down by O'Mara's forced dialogue, making the character seem like little more than a dumb brute, and Emma Stone exists purely as a prop. Her character never has much to say, but certainly plays her part as the foxy bombshell in the red dress. This was fine for aesthetic purposes, but was overall disappointing from an actress with legitimate talent.
The true disappointment came from Ryan Gosling, who seemed to personify the debacle that this movie becomes. Peter Rainer of the Christian Science Monitor explains, "Director Ruben Fleischer and Screenwriter Will Beall can't decide whether to make a spoof or a serious drama, so they wrongheadedly attempt both." This is exactly true of Gosling's character, who never seems to take anything seriously, and yet still tries to be the voice of reason within the film.
In a film too obviously modeled after Director Brian De Palma and Screenwriter David Mamet's brilliant The Untouchables, Fleischer and Beall hardly claw their way into the ranks of the gangster genre pantheon. Gangster Squad is reminiscent of The Untouchables, but in reality it comes away barely as good as Public Enemies, which was certainly no gem itself.