Striving for Tolerance and Diversity: Feminist Read-Out at Pandora's Box
Pandora's Box, a monthly event hosted in the Angelina Pedroso Center, is one of Northeastern's most vital and most valuable forums for discussion of controversial social issues.
Founded and organized by Anett Zlotorycki and Belkisa Aslani, both event coordinators for the Women's Resource Center (WRC), Pandora's Box discussions cover topics as diverse as urban farming, women's rights and the Black Lives Matter movement.
At the Feminist Read-Out on Jan. 27, students and faculty were invited to read and discuss excerpts of women's literature. Some members of the discussion brought their own books, while others picked one from the Pedroso Center's generous collection.
"You could bring your own work, you could bring the work of an author you admire [or] you could choose from the book cart," said Joanna Snawder, Director and Deputy Title IX Coordinator for the WRC and the sponsor of Pandora's Box.
Some 16 or so students, faculty and staff gathered for the Feminist Read-out, and the group was arranged in a circle around a small table in the Pedroso Center Lounge. The Read-Out began when members of the circle were asked introduce themselves with their names and gender pronouns.
Snawder explained gender pronouns to the group. "[It's] how you want to be referred to: she, her, hers; he, him, his; they, them, theirs. There are lots of different ways to think about the way that a person might interpret their gender pronouns, and we just don't want to make any assumptions about how people identify."
The readings chosen by attendees for the reading were far-reaching and diverse. Excerpts from the works of Audre Lorde, an analysis of La Malinche and her tarnished reputation and an article on the harmful and sexist nature of certain explicit words, among other things, were all featured at the read-out.
The discussions ignited by the readings were as important as the readings themselves. One attendee, Robert Hall, spoke on the importance of rooting out logical fallacies in racist or misogynist arguments. If you can identify the fallacy, Hall explained, the rest of their argument will fall apart. "There's always one common thread and one common fallacy that the person who holds onto it believes in," he said. "If someone holds onto that belief, they build their entire prejudice around that, then basically no-one is safe. Someone who says black issues aren't a problem until black people bring it up, they can probably say the same thing about women."
Later in the event, an excerpt from the book, "The Will To Change: Men, Masculinity, and Love," read by Zlotorycki, prompted a thorough discussion the use of sexually charged obscenities — all words that are banned, for good or ill, from this fine publication. Some attendees argued in favor of these words and some against. One attendee argued the words could be re-oriented and directed against those who denigrate women.
After the event, Snawder related the event's name, "Pandora's Box," to the Greek myth inspiring it, the idea being that by releasing through discussion what she called the "Proverbial Evils" of social issues, peace and tolerance could be better promoted. "What people don't remember about the myth," Snawder said, "was at the bottom of the box was hope."
On the full purpose of Pandora's Box, Zlotorycki said, "[It's about] finding what effects us through what we eat and body image and some more complex happening [that's] not in our backyard. [We want to explore] how this [ties] into the global scale of womanhood and manhood and anyone who doesn't identify with those genders."
Pandora's Box recurs monthly, and the next segment, "Grassroots Leadership in the #Blacklivesmatter Movement," will be occurring today, from 12:15-1:30 in the Angelina Pedroso Center.
Leave a Comment
About the Contributor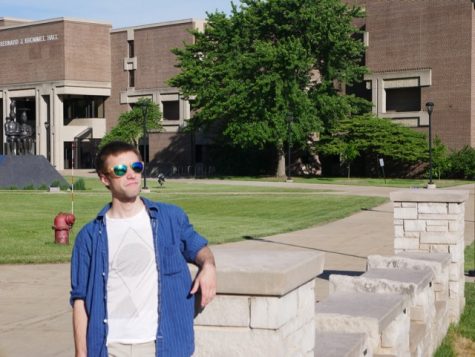 Steven Villa, News Editor