Super Bowl XLIX Preview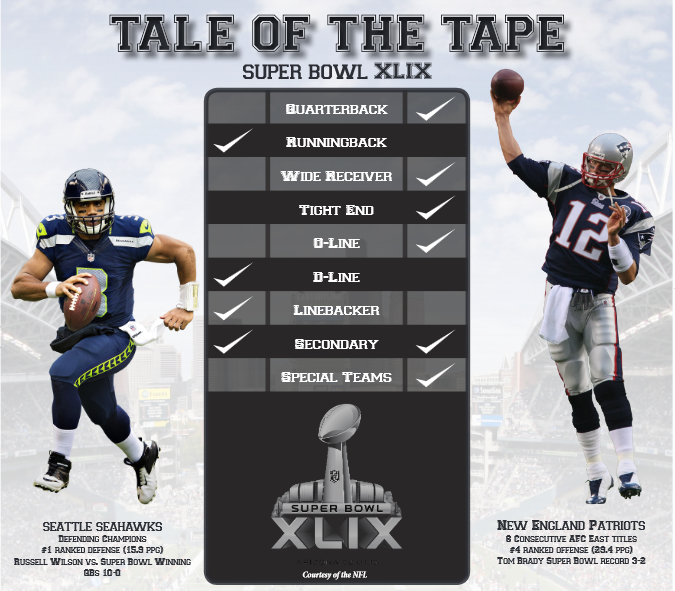 The stage for Super Bowl XLIX is set, with the veteran New England Patriots preparing to battle the resilient Seattle Seahawks for the right to raise football's greatest prize, the Lombardi Trophy. Will Seattle move toward dynasty status with a second consecutive title? Can Tom Brady win a fourth ring and solidify his credentials as the greatest quarterback ever? Which defensive back will outshine the other, Darrelle Revis or Richard Sherman? Does Marshawn Lynch have one more gear in Beastmode? Will the injuries to Richard Sherman and Earl Thomas hinder Seattle's defensive attack? All questions will be answered at kickoff in Glendale, AZ on Feb. 1.
With a rout of the Indianapolis Colts last week, the Patriots look to continue their streak in lieu of the backlash they are facing for using deflated footballs in the AFC Championship. After a 2-2 record to begin the season, fans and experts around the league questioned if Brady and his team were on the decline because of how discombobulated they had looked on the field. until a 43-17 rout of the Cincinnati Bengals which silenced the critics.
The Patriots went on to win 10 out of the 12 remaining games and capture their sixth consecutive division title behind a revamped defense with the additions of cornerbacks Brandon Browner and Revis to go with the return of a healthy Rob Gronkowski.
Brady is set to make his sixth start in the Super Bowl, the most in NFL history at the quarterback position. He captured a championship in his first three appearances, while his last two have resulted in losses at the hands of the New York Giants. While he and head coach Bill Belichick are the winningest head coach-quarterback duo of all time (180-55 according to NFL.com), their places in NFL history are cemented, but in two weeks will they be remembered as the unstoppable dynasty or the team that couldn't fully capitalize on almost two decades of football dominance?
When a team is defending its championship, every opponent gives its best shot to knock them off the throne. It is no different with Seattle. While the Seahawks are back in the Super Bowl, the road there was much more difficult as they saw themselves having to overcome a 3-3 start, the trading of playmaker Percy Harvin, chemistry issues with Marshawn Lynch and a period where the Legion of Boom (what Seattle's defense is nicknamed) lost its "boom."
Despite all of this, Seattle ended the season winning nine of their last ten and capped off one of the most epic comebacks sports has ever seen against Aaron Rodgers and his Green Bay Packers in the NFC Championship. They have one more test — perhaps their biggest one — against a team with an explosive offense and a smothering defense.
Leave a Comment