Review: 'Bobrauschenergamerica: A Belly Full of Laughter and Candy'
Charles Mee's whimsically strange "bobrauschenbergamerica" kept the audience laughing, tapping their toes and snacking on tasty treats last Saturday in the Stage Center Theater.
As patrons took to their seats, cast members were walking around handing out old-fashioned penny candy. Before the show, audience members chewed on coconut Long Boys, Squirrel Nut Zippers and Necco Wafers, priming their nostalgic senses for a journey through the lifescape of painter and graphic artist Bob Rauschenberg.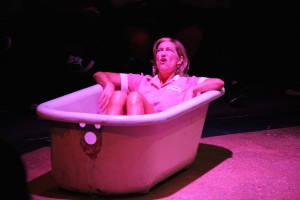 Throughout the play, Aubrey Fossen as Bob's mom narrated slide-shows of Rauschenberg's unconventional art as if they were family portraits, representing Rauschenberg's ability to tell stories through abstract art.
The play is primarily about expression of all types. It demonstrates how curiosity can lead someone like Raushcenberg, the son of Fundamentalist Christians and a Texas native, to discover nontraditional forms of artistic expression.
Furthermore, the play's quirky yet familiar characters serve as metaphors for the greater tapestry of human existence. These characters convey the idea that every individual craves expression in some way or another, whether it's physical, emotional, animalistic or creative.
Much like Rauschenberg's art, which often combined non-traditional objects and materials to create juxtaposing patchworks, Mee's one-act play is told non-linearly through charming and passionate vignettes, entertaining dance sequences, musical numbers, photo slide-shows, poetic musings and, of course, the food.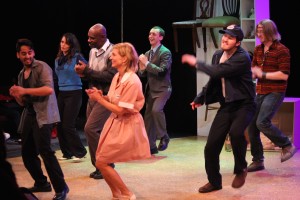 "It was very unique and interesting," spectator Taylor Anderson said. "I liked how they incorporated food into the experience—definitely one of a kind."
Under the helm of director Kristin Hunt, sensory exploration is becoming a trend at the Stage Center Theater. Leading up to the production of "Miss Julie" last spring, Hunt told the Independent, "Working with food in performances has been an area of interest for me. It's a relational art—I mean, think of it like this: your relationship with a person changes when you share a meal with them."
The proof was in the pudding. As spectators and actors ate together in the intimate theater, the emotional distance between the audience and the performers diminished. The way the play was written in this nonlinear collage style provided many strange and powerful scenes that demanded a lot of emotion and physicality from its performers.
In one passionate scene, Allen, played by Israel Moskovits, beat a trash can to oblivion with a baseball bat.
In another scene, Jose Navarette as Carl performed a spirited ballet (of sorts) in honor of fresh laundry. The audience was enchanted as he pranced about the stage, hurling clothes into the air, draping it over his face and burying himself underneath it. Afterwards, an audience member was pulled up to the stage and placed in a dress.
One thing "bobrauschenbergamerica" had in spades was charm. All the performers brought a unique sense of quaintness to their characters, which were often met with uproarious laughter.
Some of the highlights included the playful and frisky interactions between Phil the trucker (Sean Magill) and diner waitress Phil's Girl (Ann Stoner); a delightful rendition of the 1940s classic "I Don't Want to Set the World on Fire" sung by Moskovitz in a towel and shower-cap; the nervous poetic waxing performed by Becker (Scott Wurtzebach); and a funny yet poignant scene where Susan (Heather Chilson) shoved pound cake into her mouth while delivering a monologue about the romantic disposition of women.
"The performances were excellent," NEIU program specialist Jennifer Blair said. "I'm still thinking about it, which is a good thing."
This performance marked the end of the play's run at the Stage Center Theater. The next show will be Christopher Durang's dark comedy "Why Torture is Wrong and the People Who Love Them" directed by Dan Wirth. It will run Thursday, Nov. 20, through Saturday, Dec. 6.