Catfishing – When People Take The Bait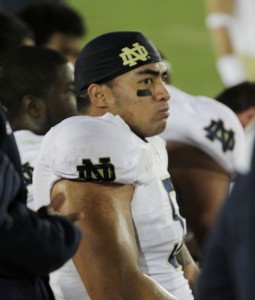 Notre Dame linebacker Manti Te'o found out the hard way that even having celebrity status won't necessarily protect a person from being "catfished." According to the Urban Dictionary and the hosts of the MTV show Catfish, the term 'catfish' is used to describe a person who pretends to be someone else, and uses Facebook or other social media to create a false identity.
In an interview with ESPN's Jeremy Schaap, Te'o revealed that he met a girl online named Lennay Kekua, and began an online relationship with her. In September of 2012, Te'o was shocked to learn that Kekua, then his girlfriend, had supposedly passed away from leukemia. However on Dec. 6, 2012, he received a call from someone claiming to be Kekua. Te'o claims that he wasn't completely sure that Kekua's identity was fake until recently.  An acquaintance named Ronaiah Tuiasosopo called Te'o on Jan. 16, 2013 and admitted to being Kekua and apologized for the hoax.
Heisman finalist Te'o became embroiled in a scandal as the story broke that had media outlets questioning his draft pick prospects and accused him of orchestrating the hoax to improve his chances of winning the coveted trophy. Te'o said that he "catered" his responses to his family about his girlfriend to make it seem like he met Kekua, causing his family to inadvertently claim he had met the girl, but now that he knows the truth behind all of it, he only has one hope.
"I hope [Tuiasosopo] understands what he's done. I don't wish an ill thing to somebody. I just hope he learns. I think embarrassment is big enough," said Te'o.
The term catfish did not come into widespread usage until the movie Catfish premiered at the Sundance Film Festival in 2010. Catfish the movie is a documentary film that followed the star of the movie, Nev Schulman and his online romance with a person named Megan Faccio. Schulman met Faccio through who he thought was an 8-year-old prodigy child artist named Abby. Faccio was supposedly Abby's older half-sister. Schulman and Faccio shared some common interests and began chatting on and offline. "I was opening up to Megan in ways that I had not with actual girlfriends that I had had," said Schulman in a 20/20 interview.
Their romance and flirting hit a snag when Schulman and Faccio traded song requests. Schulman asked Faccio to sing a cover of Tennessee Stud, but the song she sent him sounded exactly like a cover of Tennesee Stud someone else had posted on Youtube. Schulman was frustrated and wanted to cut off communications but Schulman's brother Ariel and he friend, Henry Joost, saw this as an opportunity find out the real truth. Schulman admitted to feeling embarrassed and gullible, but Joost said that "the reason that Nev believed it is because he wanted it so badly. And if you really want something in your life, you're willing to overlook all of the warning signs and you put on blinders."
The trio flew out to Michigan where Faccio claimed she lived and found out that Abby the child prodigy artist and Megan Faccio, along with several other Facebook profiles were fake characters made up by Angela Wesselman. Wesselman said she created characters "to support the one character of Megan [Faccio]. It's not normal for just one person to be on Facebook with just one friend…you have other friends."
Before leaving, Wesselman's husband Vince told a story of how codfish in Alaska would die on their trip to China, so fishermen started putting catfish in the tanks with the cod to keep the cod alive. "There are those people who are catfish in real life, and they keep you on your toes, they keep you guessin', they keep you thinkin' and they keep you fresh," said Wesselman's husband. Schulman said that that explanation is how catfish came to be. The movie prompted MTV to develop a show called Catfish that follows a similar plot to the movie, helping people expose their own catfishes. The show premiered on MTV on Nov. 12 2012 and according to the site The Futon Critic, Catfish "was the #1 non-sports show among persons [aged] 12-34."
Regardless of how popular the movie and show are, the one question that revolves around "Catfish" is, is it a hoax? Both Schulman and Te'o denied being a part of a catfish hoax, but one thing is sure, social media has changed communication.
Northeastern Illinois University (NEIU) Communications Professor John Ross said that communication through instant messages or texts can both encourage and discourage interpersonal communication, depending on the person's intentions and attitude. Ross also said that different means of communication changes the moral code and gives one a different set of boundaries.
Dr. Tony Adams, a communications professor at NEIU said that there isn't much of a difference from how we communicate online and how we communicate in person because in both scenarios people have to figure out how much they are willing to tolerate from the person they are communicating with. The only difference is online profiles tend to give short cuts to a person's interest, whereas in person it may take longer to find out an interest in a face-to-face conversation.  Adams also mentions that the only thing that may make online communication and fact checking hard is the distance.
Average Joe or not, we all have the ability to be a catfish and get catfished.