Erasing the Distance, a nonprofit organization established in 2005, is dedicated to de-stigmatizing mental health issues through storytelling. The organization has made waves at NEIU with its latest art installation, "Room for Light." This groundbreaking exhibit, hosted at Alumni Hall from Aug. 28 to Sept. 1, aimed to bring joy, celebration and empathy to the forefront of the conversation surrounding mental health.
"Room for Light" is a vibrant testament to the power of celebration and the human spirit. Through 8-by-8-foot portraitures, the exhibit showcases individuals navigating their mental health challenges while embracing their diagnoses as superpowers. The goal is to shed light on the joyful and celebratory aspects of these journeys, inviting viewers to explore mental health without fear or hesitation.
Gabriela Diaz, managing artistic director at Erasing the Distance and co-producer of "Room for Light," said that whenever people tell their stories, they are filled with laughter, joy, and celebration. According to Diaz, since the events are so joyous, the creative team "decided to specifically capture the joy in the light by presenting them" as vast installation pieces.
The journey to bring these large art installations to NEIU's campus was not without its challenges. However, with the support of Aidon Perrera, health education coordinator, Dr. Jennifer Lasko, interim director of Student Health Services and a sponsorship from Student Health Services, Erasing the Distance was able to deliver on the mental health art installment.
Story continues below advertisement
"Room for Light" has a library of 300 stories, and with the help of Dr. Lasko, Diaz created a customized package of six individuals to be featured on campus during the week. They considered who to feature and used their knowledge about mental health diagnoses, topics and demographics that may afflict the campus community to ultimately choose topics that reflect stresses of academic life, premenstrual dysphoric disorder (PMDD) and attention-deficit/hyperactivity disorder (ADHD), among others. The selection process focused on ensuring that the stories align with the interests and needs of the university's student body.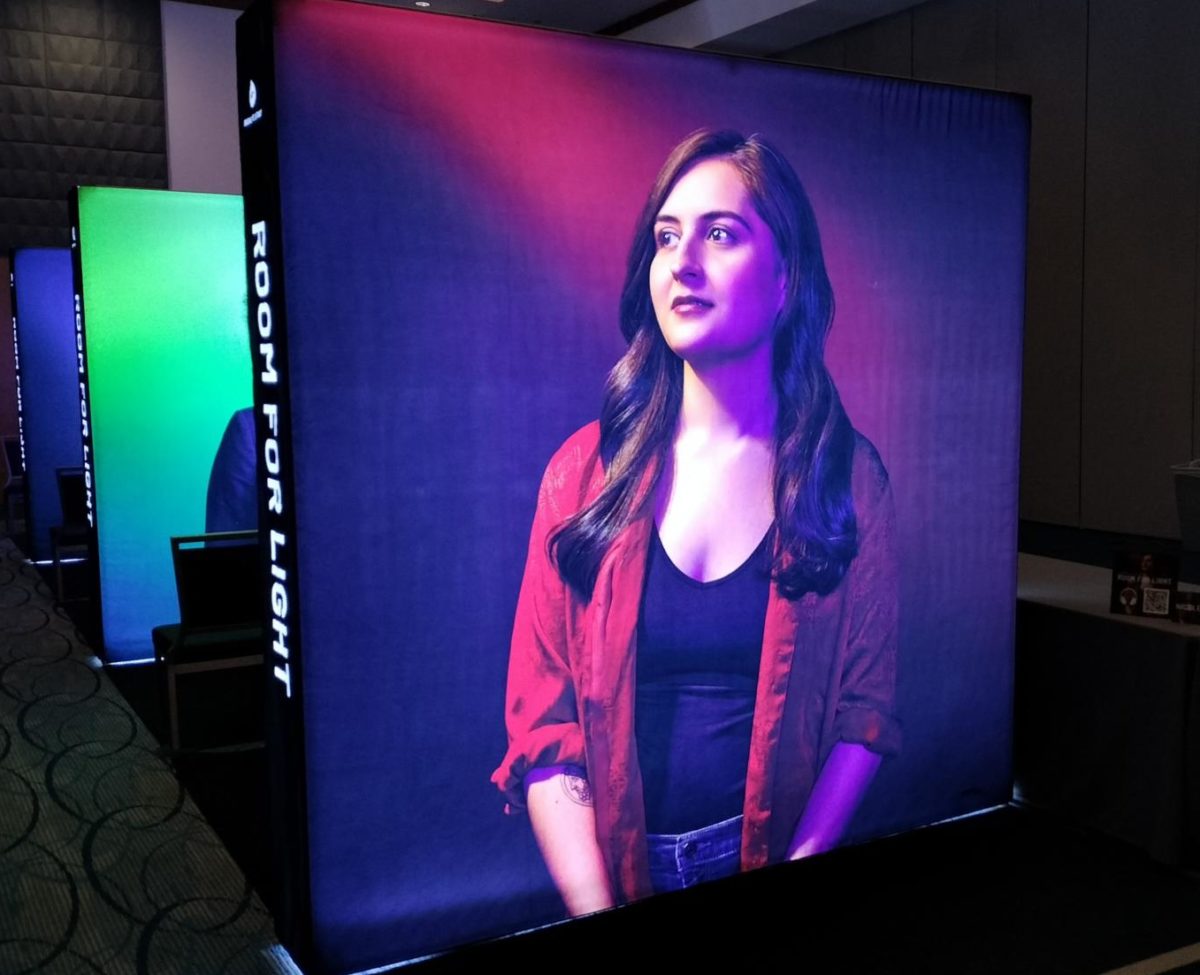 Elli, Nicole, Grant, Jordan, Ana and Jordan were the six selected stories during NEIU's "Room for Light" event. Grant's story reflected his struggles with ADHD and becoming empowered to strive for excellence. Ana's story revolved around navigating stress from academic life. All six individuals are from different places throughout the world, but they all ultimately landed in Chicago. Erasing the Distance and "Room for Light" have become "safe space facilitator[s] to spark dialogue around mental health that is honest and open and informative and human," said Diaz, and it "is a jumping off point and the beginning of a conversation that we hope communities will have with themselves and with the people they care about."
Sandra Beyda-Lorie, executive director for the Center for Teaching and Learning at NEIU, emphasized the importance of events like "Room for Light" in breaking down the stigma around mental health. "Listening to the actual person describing their experiences" cannot be replaced, according to Beyda-Lorie. 
As the exhibit enlightened NEIU's campus community, its impact extended beyond NEIU's borders because it promoted diversity, equity, accessibility and inclusion. "Room for Light" encouraged attendees to embrace their mental troubles, gain support and share those experiences and stories with family and friends, fostering a more open and compassionate dialogue about mental health.
"Anything educational is important to breaking down that stigma," Beyda-Lorie said. "When we hear stories [and] when we share our stories, our knowledge [and] understanding comes to life."
"Room for Light" is more than just an art installation. It is a celebration of resilience, a testament to the strength of storytelling, and a beacon of hope for those navigating the complexities of mental health. It serves as a reminder that joy and celebration can be found even in the darkest of times, and that we are all connected by our stories.
For those who missed the exhibit, Beyda-Lorie's sentiment is quite clear in encouraging people to embrace such exhibitions, taking the stories and sharing them with other people while reflecting on the wonder of people's strength and tenacity.  
"Room for Light" was a chance for the campus community to come together and celebrate life's joys, while also erasing the distance that keeps us from understanding people's mental struggles, having empathy and showing compassion for them.
—-
Disclaimer: This article is based on information provided in an interview that The Independent's reporter conducted with Gabriela Diaz, managing artistic director at Erasing The Distance's Room for Light event,  and Sandra Beyda-Lorie, executive director for NEIU's Center for Teaching and Learning, on August 29, 2023. The statements and quotes attributed to the interviewees accurately represent their views as of that date.