Jacob H. Carruthers Center for Inner City Studies (CCICS) is one of NEIU's satellite campuses and has been a part of NEIU since its inception. Over the last several years, it has become a hub for not only their classes but for events that unite the NEIU community and beyond.
There are two events worth mentioning that, within a month of each other, highlight the inclusiveness and creativity of the Carruthers Center. The Fifth Annual Poetry Slam for NEIU students, and the 28th Annual Community Media Awards, as presented by Public Narrative. 
Breaking Barriers; Striving for Greatness
"We feature these poets who are brave, and continue to share their stories." – Andrea Evans
They brought different parts of NEIU to CCICS, with various people participating this year. Orion Meadows, one of the winners from the previous year, was one of the judges. Cortez Thomas, the first-place winner from last year, was also in attendance, with Destiny Davis, who was the host of the poetry slam.
"Because single women are in power, bringing power to men" – Courtney Henderson
Among the participants, Gabriela Kupjanczuk, who had the poems "The End Of Lark," and "Somewhere else", captivated the audience. Courtney Henderson, a social work major, took part in the Poetry Slam. Courtney not only shared her powerful poems titled "My Black Ain't Never Been Free" and "Observation of Mother" but also brought her children along to witness the event. Onze Davenport, an Interdisciplinary and urban community studies double major, presented the poems "Where do we go from here" and "Hurt." 
As is the case at the Poetry Slam, as the judges go and deliberate on the winners, there was an open mic section for those in the audience that wanted to participate. Among the attendees were a pair of children, one child, whose poem is titled "My Mom is not like other moms", who expressed her feelings for her mother. Another person jumped in from the audience and decided to freeform what he wanted to have from his life, and his relationship with his partner. Sarator Whitehead, after being urged by the audience, repeated her poem from the year before. 
Davenport got first place, Henderson got second place, and Kupjanczuk got third place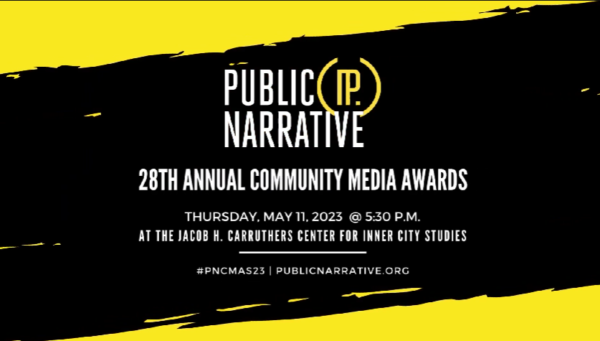 A Media Melody 
The Public Narrative's Community Media Awards was established in 1994, and over 120 awards have been presented to journalists in their work for community media since. 
There were four award categories: the Uplifting Voices Award, for an individual journalist for changemaker that specializes in Chicago Communities, and the Studs Terkel Award which recognized "Chicago journalists of any media genre who exemplify the values of Terkel's journalism by elevating people's voices above power", as stated in a release from Public Narrative.
Two additional categories for this year were the People's Choice Award for emerging journalists in the industry, and the Ripple Effect Award for a journalist on the national level that had an impact in Chicago and elsewhere.
Communication, Media and Theatre Professor Edie Rubinowitz mentioned in a NEIU news piece about the Community Media Awards, "They dig and dig and get at the truth while raising up voices that often don't get on the front page. They are an inspiration to our students, some of whom are looking into pursuing a career as media makers."
The highlight was the awardees' speeches. Jodi Cohen, one of the Studs Terkel Award winners, and a reporter for ProPublica, teared up while recanting some of her major milestones over the course of her long career. During her career, Cohen has conducted in-depth investigations and reported on topics connected with school segregation, discipline policies, college admissions, and the impact of financial aid on students. Jorge Martinez, being the youngest recipient of the People's Choice award, mentioned a bit of his life since joining the Cicero Independente, a Cicero local newspaper that started in 2020. 
Craig Dellimore, who won the 2023 Ripple Effect Award, is primarily known as a political editor and reporter for WBBM Newsradio, a Chicago-based news station. In his acceptance speech, he showed humility, talking about the four decades of his career, but also of current and future journalists. "When I see younger people diving in … in the press room, and city hall or out on the streets, it tells me that people haven't given up on this business."
—-
While I would be remiss without saying that I did not really know of their names before the awards, I was in awe by how varied they were, from all walks of life, and all of them managed to receive an award in a field that not many people would dedicate their lives to. 
All of this goes to show that Bronzeville hosts a variety of events, but sometimes there may be a lack of accessibility in certain areas of the city. Nevertheless, if you know where to look, there are hidden gems and opportunities to be discovered.
You can find the full 2023 Community Media Award ceremony as presented by the Public Narrative on the Can TV Youtube channel.