UPI Authorizes Strike as Early as Tuesday
The University Professionals of Illinois (UPI), the union representing faculty, librarians, and advisors at NEIU, has voted to authorize a strike. A mediator will work with the union and the administration to attempt to reach an agreement according to Nancy Matthews, the president of the UPI chapter at NEIU. UPI has announced that the earliest they will strike is Tuesday, April 25, 2023.
If mediation is unsuccessful the faculty will go on strike. Depending on how long the strike lasts, coursework, final exams, and projects may be disrupted. Professors will make individual policies for class work in the event of a strike. Union spokespeople have stressed that students will get their grades and be able to graduate.
In a press release from UPI-NEIU, issued on April 13th, "the last two days, NEIU faculty and staff who are members of NEIU's University Professionals of Illinois (NEIU UPI, IFT Local 4100) overwhelmingly voted to strike, with 95% of voting members asserting their willingness to do so if an agreement can't be reached at the table."
The current contract with UPI expired in 2019. Due to the pandemic, the contract has been extended temporarily by a Memorandum of Agreement (MOA). In July 2022, a formal bargaining team at NEIU began negotiations with the administration. In March 2022, UPI requested mediation of the bargaining process. This request was denied by the administration, prompting the strike authorization vote.  UPI has previously demonstrated on campus and held events in Village Square.
UPI is demanding a 6% increase in compensation within one year for all members, over a 4% increase in 2-4 years, an increased overload rate, and an increase in parental leave to six weeks. The administration has turned down all proposals except for a 2% increase in compensation with increased workloads and responsibilities for faculty and staff for the next year and no increase for 2 years from now.  
A strike could significantly impact students. During a strike, faculty represented by the union will not attend class, grade coursework, or communicate with students on school-related matters. Nor will they receive pay during the strike. However, it is customary to receive back pay as arranged in negotiations.
NEIU's president Dr. Gloria Gibson and José Rico, chairman of the NEIU Board of Trustees (BoT), have issued a statement, "With the welfare of students in mind, we are fully committed to continue bargaining in good faith. We deeply appreciate our faculty and staff, who are all committed to our mission of preparing a diverse community of students for leadership and service in our region and in a dynamic multicultural world. While the university manages its financial concerns, we remain committed to our mission to serve our students, many of whom are young professionals and first-generation college students."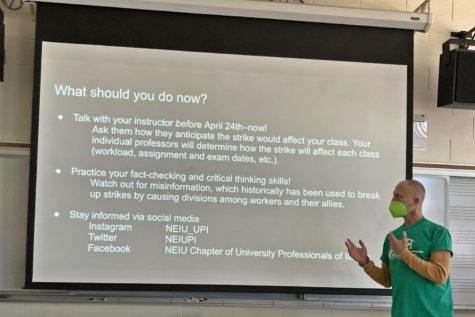 At an information session hosted by UPI, union spokespeople addressed how a strike might affect students. Speaking for the union, professor Nikolas Hoel said there would be disruption, as strikes are disruptive by their very nature. During a strike, faculty will not teach, communicate with students about coursework, or grade papers. UPI did say that students would get their grades and be able to graduate.
Using a 2004 strike at NEIU by UPI as an example, the Union said the semester may be extended by a number of days.
While answering the concerns of students graduating this semester, UPI representatives said that grades routinely take a number of weeks to be finalized even after the graduation ceremony, and that they did not anticipate a strike lasting long enough to impact students who are moving on to graduate school.
Another concern of students was what to do with their coursework while a strike is in progress. Ashley Elrod, a professor of history, said that her class would not have to do additional work and that the final project she assigns might be shortened, depending on how long the strike lasts.
Elrod spoke only for her own class as her subject allows for some flexibility. She said that other subjects, such as sciences, or classes that are in a series, might need to be handled differently. UPI advised students to speak with their professors before April 24, 2023, as each instructor may have different class policies.
UPI also addressed a rumor that university administrators may shut down the D2L system. Nancy Matthews said that that was unlikely and that NEIU's current administration would not be capable of doing so.
The union also said that students working internships could still work, and that doing so would not be considered crossing the picket line, or working in defiance of the union strike. Student teachers should also stay in their placements, as they are not members of UPI.
One student brought up that some leases at The Nest expire on May 13, 2023, and asked how an extended semester might affect residents. Union representatives said they did not have an answer to the question, and directed students to speak to the Office of Student Affairs, as that office deals with The Nest.
Students can support UPI, in the event of a strike, by demonstrating with professors on the picket line outside of the university. UPI also urges students to contact Illinois Governor J. B. Pritzker's office, as well as the NEIU's Board of Trustees and NEIU's President, Gloria J. Gibson.
The union previously released an FAQ to students earlier in the semester.
UPI will be making announcements on Twitter, Instagram and Facebook, and advises students to only get their information about the union from union sources.
According to a recent press release, UPI will be holding off the first day of a potential strike until Tuesday, April 25. The union will be rallying at noon on Monday, April 24, on the main campus. UPI claims that it has "seen notable progress" as a direct result of its rally ahead of the BoT meeting on April 13, 2023.