Get Your Heart Pumping With Spin Class Express: The Ultimate Cardio Workout
NEIU's Campus Recreation offers a weekly Spin Cycle Express class at 1 p.m. every Wednesday. The activity is about exploring and experiencing the benefits of cardiovascular fitness activities on a stationary bicycle surrounded by fellow students and community members. Participants listen to fast-paced music and follow the guidance of an experienced instructor to mimic cycling in various conditions, such as high-resistance uphill biking and low-resistance downhill biking. The fitness class helps train the participants for sprinting, climbing uphill and doing intervals. While using stationary bikes, it is supposed to feel like being on a road bicycle while simulating different terrains and intensities. The mentality of this particular group fitness class is to join the ride, feel the vibe and crush it every time!
Participants have the option to set comfortable resistance levels while meeting their fitness goals and giving themselves challenges. The cardiovascular benefits are improvement of lower body strength, endurance and speed. The beauty of the fitness class is that you can grab a friend, cycle together and stay parallel to each other regardless of each other's fitness expertise. As the resistance increases, you must embrace the burn and let the endorphins flow!
A few different people at Campus Recreation have been involved in making Spin Cycle Express a possibility. Spin Cycle Express is facilitated by Mac Varilla, Aquatics Coordinator and Lead Fitness Instructor. Program Chair, Associate Professor and Interim Associate Director, Dr. James Ball, was the inspiration behind the fitness class, according to Varilla. Also, Varilla stated that Fitness and Wellness Graduate Assistant, Talli Shepherd, gave support in designing the fitness class.
It took great preparation on Varilla's part to practice facilitating a fitness class. As a part of Varilla's training and preparation for instructing a spin class, he attended SoulCycle fitness classes in downtown Chicago. He casually walked in, tried the class and confirmed it to be a lot of fun. Varilla desired to put his visual, kinesthetic and coaching experiences to the test while developing this new fitness class at NEIU. It is currently only once per week, but the hope for the class is to make it multiple days per week.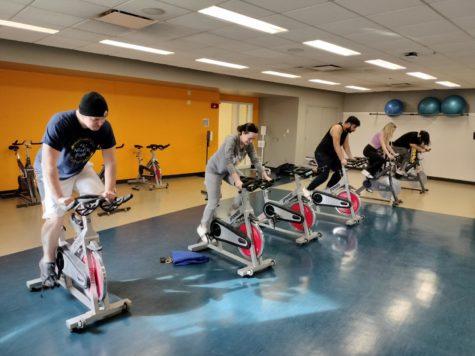 The music selection that plays during the class is intended to be fitness-inspired and gender-neutral in order to maximize the number of students and community members to feel included. You must get your groove with the music and keep on pedaling!
According to Varilla, the purpose of titling the fitness class with the word 'express' is that it is only 30 minutes, and participants are free to just stop by for however long they want in between attending their academic classes. The inspiration of the class was to be geared towards the busy student who struggles to find time for a workout, so Varilla created an 'express' class to be quick. Varilla desired to supply a respectable workout that can be done in a confined amount of time. He intended students to be able to get "in and out" and move on with their day.
Varilla's long-term goal of making fitness classes is to take his "experience, knowledge and wisdom and definitely pass it on in the form of a family business."  His love of sports definitely exists among his family members. He has two brothers capable of playing professional basketball and the youngest brother is a sports photographer and sports video coordinator for UIC's men's basketball, women's basketball and soccer. Varilla is in the midst of teaching multiple sports in a variety of fitness and movement classes. He wants to ultimately establish a legacy instructing and mediating sports classes. He is currently planning to do these activities "as an old man whether [he] is actively participating, teaching someone how to teach a class [or] designing curricula."
Varilla calls himself a "generalist" while designing fitness classes for all age brackets. He has "taught swim lessons to adjunct professors in their mid-60s in Lincolnwood." He is a man of many hats when it comes to fitness regimens. By being a participant in Varilla's fitness class, you would be receiving a service from a dedicated professional. In addition, Varilla is currently teaching a Striking class every Wednesday at 10 a.m. open to all students and community members at Campus Recreation. As a reader, you should definitely consider riding to the rhythm and letting the beat move you!
All Photos by Author