Faculty, Staff & Students Protest Town Hall Meeting Demanding Accountability From NEIU Administration
A group of about 30 students and faculty members marched from the village square in the Student Union building to the auditorium on Tuesday, January 24, 2023 as the University executive cabinet, including President Gloria J. Gibson, hosted a town hall meeting to address and discuss proposed budget cuts and departmental restructuring in response to the $11 million projected deficit in the University's current fiscal year.
Many students and faculty voiced opinions that the university administrators and consultants are out of touch with the University as a whole, and have been unwilling to listen to solutions repeatedly proposed since 2018.
Manish Kumar, Vice President for Finance and Administration, confirmed the $11 million budget deficit is caused by a variety of factors, including mistakes from prior administrations, the COVID-19 pandemic challenges, State of Illinois appropriations, and declining enrollments in every academic department overall.
As several students and faculty members felt passionate about the University, there were multiple outbursts and interruptions to the presentation as Kumar talked.
An anonymous member of the NEIU community shouted, "What about a $130,000 salary for a ghost worker from Michigan." That comment was in response to the article where NEIU Vice President Buster-Williams Hired Someone As Her Interim Associate Vice President Who Allegedly Works Two Full-Time Jobs in Michigan.
Another member shouted, "Where is the enrollment plan? Why is it a secret? Why won't you tell us how you plan to increase enrollment? It will be years out until you do that."
Immediately after, a member shouts, "are you presiding to fail? Read the room."  
In response, Dr. Gibson calmly said twice, "just let us continue, please."
After a few minutes, a member yells, "Let's just ask questions. We have already seen the slides." Three people then began to yell and argue with president Gibson about the presentation continuing so they could voice their opinions.  Dr. Gibson handed the presentation to Kumar, who quickly reviewed the University 's position on the budget and enrollment crisis.
Ultimately, Dr. Gibson decided after Kumar's presentation to let people voice their concerns and opinions, and make suggestions to address the budget deficit and restructuring plan.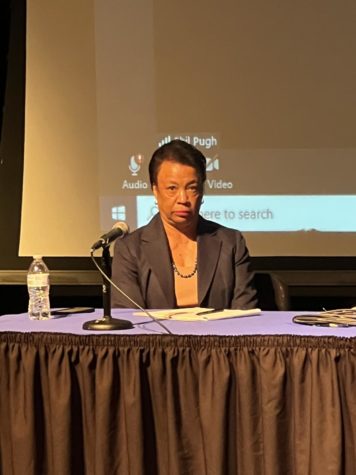 Several suggestions were made by students and faculty. One student named Karla asked how Dr. Gibson could possibly make these decisions for the University since her contract was not renewed by the Board of Trustees. Another person commented that it is not appropriate for a "lame-duck" president to make decisions and that she would have no accountability for the impact in the long term.
As the crowd of students and faculty continued to express their opinions, all executive cabinet members sat with stoic expressions on their faces, listening but at times refusing to respond to some questions.
It is unclear how much money is spent on consulting services as an attempt by the administration to address the budget deficit and enrollment crisis. Toya Barnes-Teamer, the consultant hired by the University, made an interesting observation via Zoom. Barnes-Teamer said, "you cannot wait for a new president to come in to address these issues. If you look at the enrollment in the past ten years, enrollment has been declining."
A faculty member stated in response, "I would also like to point out that you did indeed confirm my suspicion you have never seen a reorganization like this with a president not with us much longer. I would like to ask that we have a meeting, a full regrouping at the dean's level with someone who knows how the University works."
Stacey L. Goguen, Ph.D. Associate Professor of Philosophy said, "Downsizing is a terrible idea for this University. Every single faculty and staff member is overworked. We do more than a full-time job. If we downsize…This will not help student retention. It will make it worse…How the hell will downsizing help this problem? I think Dr. Gibson has an ethical obligation to resign immediately!"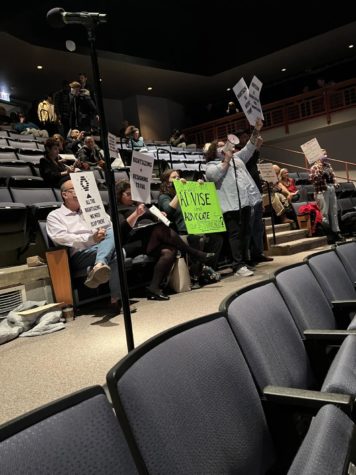 Tracy J. Luedke, Professor of Anthropology, said, "We have really lost sight of who and what we are as a university. Right. The primary thing Northeastern does is to award bachelor's degrees…When we reduce academic programs to the number of majors in that program, we lose insight into our primary mission, which is to introduce students to the breadth and diversity of academic fields. That is what gives them insight and content about their major…The most disturbing part of the downsizing plan..is that you will kill us, we will cease to be a university."
Gregory W. Anderson, Ph.D. Department Chair, Professor of Physics and Environmental Science stated, "I am willing to do some belt-tightening but am also a numbers guy. I have been through early proposals. With all due respect, the savings projected are overestimated, and what is completely missing from the projects are the costs."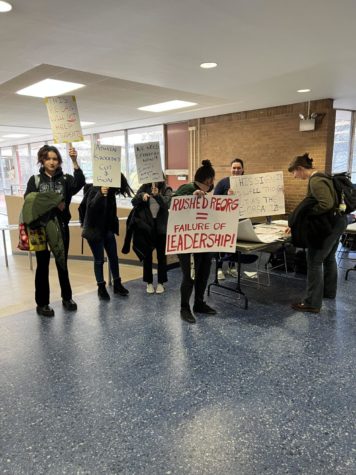 Many faculty members are worried about the non-financial costs of downsizing and reorganization and how it will affect student enrollment and retention. They claim it will do more damage than good.
According to the Town Hall agenda document released by the University, cost savings from reorganization are projected to save about $650,000. But, there is an $11 million deficit. That is a savings of only about 6.18% and very well could cause the dissolving of NEIU in the long term as a worst-case scenario.
All photos by the Author
Editor's Note: The print version of this story states, "a savings of only about 16%". That figure is inaccurate and has been updated to the accurate figure of "6.18%" here.