Diwali Celebration with Indian Student Association
One of the first events from the NEIU's Indian Student Association, the Diwali event was something of a marvel. Organized with Dharmik, the president of the club, Sufiyaan and Fazan, the Diwali celebration was hosted by the Indian Student Association, and attended by several students around campus. There was even an appearance from NEIU President Gloria J. Gibson. President Gibson expressed her gratitude for the ISA and for their invitation to the event, saying, "the university and any educational facility is about is learning from each other." She said that she was "grateful to the Indian Student Association… for this invitation and for this celebration."
There was a table set out in Village Square in order to paint your own diya clay pots, as organized by several people in the ISA. All the items were provided by the Association, including the pots, paints and brushes. The water was provided by the school's own water fountain.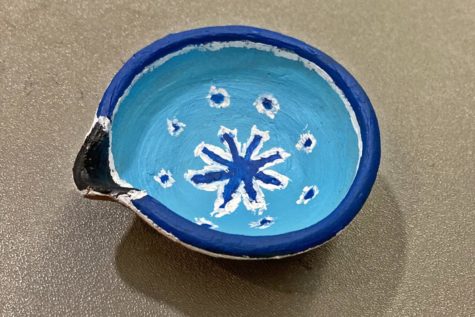 The food that they had for the event was from Maharaj, an Indian Grill from downtown Chicago. There was Biryan, a type of rice, Garlic Naan, Paneer, drenched in a type of seasoned sauce, and Raita, a yogurt dressing mixed with some herbs. The food was slightly spicy for a person with a mild spice tolerance, but there were plenty of plates filled to the brim with catered food.
The Independent managed to reach out to Sufiyan, one of the students involved with the event, he told us that Diwali is the festival of light. It is a celebration of good conquering evil, and of spreading the light, awareness and happiness around the world. We also managed to speak to Dharmik, the president of the ISA. He told us that the purpose of the ISA is to promote Indian culture and to support international students from India as a community to help make a home here, to advocate for them and give them the support they need to thrive at NEIU. Dharmik himself restarted the Indian Student Association just this semester. It had been defunct for a few years now, but upon realizing that there was no community for Indian students at NEIU, Dharmik brought the ISA back to life. The ISA will be planning more events in the future, so stay tuned for more from this vibrant and active student organization.