Field Museum's night of the great ideas
On Jan. 30 the Field Museum hosted Chicago's first "Night of Ideas," a free event filled with presenters, panels and performances. Themed "Alive!," the event began at 6 p.m. and was co-sponsored by the Consulate General of France. 
The museum offered events for all ages and featured expertise from the fields of psychology, sociology, neuroscience, conservation, philosophy, history, biology and the arts.  The activities were scheduled in half hour blocks, with the later events running nearly an hour.
The first lecture, titled "Why your Social Life is a Matter of Life and Death," identified strong social connections as better indicators of health than physiological measurements. The speaker, professor of sociology Linda Waite, emphasized the importance of having strong and diverse social connections for both maintaining good quality mental and physical health and exposing oneself to novel ideas and perspectives.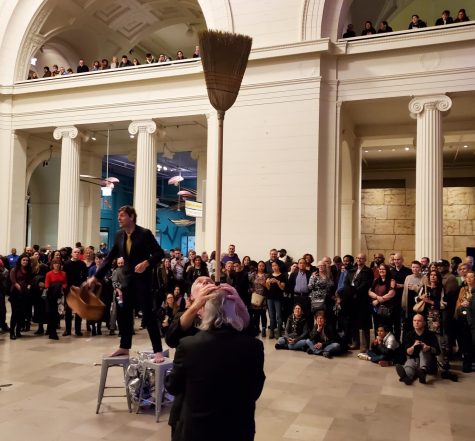 Next up, juggling artists Jérôme Thomas, Jörg Müller and Martin Schwietzke performed what was described from the stage as a juggling performance, though it could be better described as a cooperative dance of privacy violation by the European Court on Human Rights.
Following that was "Building Wildlife Friendly Cities" by Seth Magle, director of Lincoln Park Zoo's Urban Wildlife Institute.  This presentation focused on how society's understanding of wildlife in urban areas is embarrassingly under-studied and underappreciated. When showing the crowd photos of wildlife taken around the city, he introduced us to the Chicago Wildlife Watch, Lincoln Park Zoo's citizen science outreach project. If, upon investigation, this citizen science project doesn't pique your interest there are hundreds of these programs covering all areas of scientific inquiry, all in need of volunteers.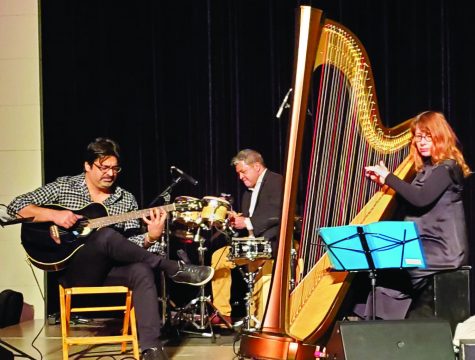 On a night that NEIU students described as being "full of energy," anthropology major Faith Mittelbrun said she greatly enjoyed this presentation. "It was interesting to hear the presenter say that other zoologists undermine the importance of studying urban wildlife. I was intrigued that they wanted the community's help in identifying animals that they caught on their camera traps and [their] asking for help in locating bat colonies for research. I will be keeping the Urban Wildlife Institute on my radar and I look forward to seeing their future projects." 
Before proceeding to the next panel, attendees were treated to a live musical performance on the main floor.  The performance, titled "Trio Oasis," consisted of harpist Isabelle Olivier, guitarist Rez Abbasi and drummer Ernie Adams.
The final panel attended was "Cultivating Sex Positivity in Chicago" with Coleti, Kristiana Rae Colón, Liz Velek and Karen Yates. The panel moderator emphasized the range of topics covered by sex positivity. During the discussion, panelists elicited emotions of glee and discomfort. The crowd cheered when panelist Karen Yates encouraged everyone to prioritize self-discovery through the self-exploration of their bodies and feelings. The mood changed when the crowd gasped in discomfort as another panelist mentioned the availability of information about DIY abortions.

The final event of the night was a performance by Chicago locals, The Era Footwork Crew, who electrified the crowd with their impeccable choreography and noble commitment to encouraging constructive community organizations.   
This first ever Night of Ideas in Chicago was a roaring success and, next year is an event worth visiting.